CM Punk's 'Pipe Bomb' 10 Years Later: A Look Back At The 2011 Game-Changing Promo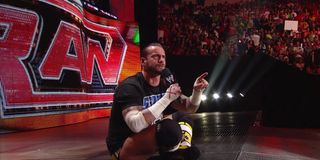 On a seemingly ordinary night in June 2011, one man sat alone on the Monday Night Raw stage and forever changed the sport of professional wrestling by delivering a six-minute promo laying out all his issues with WWE and its superstars. CM Punk's Pipe Bomb promo, as it became known in the past decade, quickly turned one of wrestling's slowest periods into must-watch television, leading to one of the most consequential moments not only in WWE's storied history, but professional wrestling as a whole.
That promo took place exactly 10 years ago and still lives in the infamy as being one of those moments where the line between reality and scripted-entertainment became so blurry no one really know what to believe. Below, I will break down CM Punk's Pipe Bomb, its immediate fallout, how it ushered in a new era in professional wrestling, and how its impact can still be felt in WWE a decade later.
What CM Punk Said During His 'Pipe Bomb' Promo
In the lead-up to CM Punk's Pipe Bomb promo, he had secured a one-on-one shot at John Cena's WWE Championship at the following month's Money in the Bank event, after which his contract was set to expire. With his contract just weeks away from coming to an end, CM Punk made it clear he had no intentions of signing a new one but instead planned on walking away from WWE as the promotion's top champion, potentially taking it elsewhere.
When the promo starts off, it sounds like CM Punk is aiming his animosity towards John Cena (his upcoming opponent and the company's biggest star at the time), but the six-minute monologue quickly shifts its focus to the rest of the WWE roster, the WWE Universe, and finally the McMahon family pulling all the strings. At this point, it no longer feels like we're hearing CM Punk the wrestler speaking but instead the man behind the character letting out six years of animosity of reaching for imaginary brass rings, not having his face on WWE merchandise, and then having to deal with fans at 5 a.m. trying to get his autograph at the airport. And just when he's about to get going on the McMahon's legacy and how Vince's death won't fix anything, the mic gets cut, making the moment feel all the more real.
WWE Felt Relevant Again For The First Time In Years Thanks To CM Punk
The moment CM Punk's mic was cut and Monday Night Raw went off the air, you could feel the change, you could tell that professional wrestling, at least WWE, would never be the same. Immediately following the epic rant, WWE was everywhere. Sports channels picked up the story, creating a level of excitement and intrigue WWE hadn't felt since the Stone Cold Steve Austin beat up his boss, Mr. McMahon, on live TV nearly nearly 14 years earlier.
For a moment there, wrestling felt new, exciting, and most of all real, which is honestly when the sport is at its best. You didn't know what was going to happen the following week but you can be damn sure you were tuning in…
The 'Pipe Bomb' Promo Kicked Off The 'Summer Of Punk'
What followed has since become known as the "Summer of Punk," a months-long storyline that saw CM Punk as the main attraction of WWE programming, week-in and week-out through SummerSlam 2011. The first stop was that year's Money in the Bank event, which was held in CM Punk's hometown of Chicago at the famed Allstate Arena (previously known as the Rosemont Horizon). The main event match, which ended with CM Punk pinning John Cena and doing what he promised all along: leave with the WWE Championship. This match is also of note as it was the first WWE contest to earn five stars from Wrestling Observer Newsletter's Dave Meltzer since 1997.
After a few weeks off WWE TV and following a tournament to crown a new WWE Champion (which John Cena won), CM Punk returned to challenge his rival in an undisputed champion match at SummerSlam. CM Punk would win the match but immediately lost the belt when Alberto Del Rio cashed-in his Money in the Bank briefcase to take advantage of a post-match attack on Punk by a returning Kevin Nash.
CM Punk's Promo Kicked Off A New Era For Professional Wrestling, Lighting The Way For Today's WWE Superstars
WWE couldn't let a good thing go on for too long and quickly put CM Punk into a months-long feud with Triple H, which resulted a loss at September 2011's Night of Champions event which nearly took all of the air out of Punk's balloon. By that November, at Survivor Series (which featured a continuation of The Rock's feud with John Cena), Punk was back on top and secured the WWE Championship once more, starting a 434-day title reign.
But even though CM Punk's reign at the top of the company has come and gone and it looks like we'll never see him step into a ring again, the Pipe Bomb promo and "Summer of Punk" kicked off a new era in professional wrestling, one that would give the likes of Daniel Bryan, Kevin Owens, and other stars of the independent wrestling world a shot at the top. CM Punk's ascension also helped open the door for a few of the biggest stars of modern WWE: the members of The Shield.
During a 2019 appearance on E&C's Pod of Awesomeness (via Comicbook.com), Seth Rollins revealed that CM Punk came up with the idea of having three NXT superstars come up to the main roster in late 2012, specifically Rollins, Dean Ambrose (who now wrestles for AEW as Jon Moxley), and Kassius Ohno, who was later replaced by Roman Reigns before the group debuted at Survivor Series 2012.
The 'Pipe Bomb' Promo Helped Turn CM Punk Into Something More Than A Professional Wrestler
CM Punk was already one of the biggest things in wrestling prior to the events of June 27, 2011, having had one of the most successful careers on the independent circuit and a remarkable run with WWE, but nothing compared to what came next. With that six-minute promo breaking down everything he felt was wrong with WWE, he became the "voice of the voiceless" and transcended wrestling similar to how Hulk Hogan, Stone Cold Steve Austin, and The Rock had done before him.
This became even more so in January 2014 when CM Punk walked out on WWE (for real this time) following the Royal Rumble. For weeks, months, and even years in some areas (specifically his hometown of Chicago), CM Punk chants took over arena after arena. That was then followed by the infamous episode of Colt Cabana's The Art of Wrestling podcast in November 2014, which was essentially a multi-hour uncut version of the Pipe Bomb that further cemented his legacy.
Who knows if we'll ever see CM Punk show up at one of the upcoming WWE events and who know if we'll ever see such a polarizing figure be given six minutes to essentially say whatever the hell he wants on live television. While we wait and see if either of those two things will ever happen, now's the perfect time to see what's coming to the 2021 Summer TV schedule to hold us over in the meantime.
Your Daily Blend of Entertainment News
Philip grew up in Louisiana (not New Orleans) before moving to St. Louis after graduating from Louisiana State University-Shreveport. When he's not writing about movies or television, Philip can be found being chased by his three kids, telling his dogs to stop barking at the mailman, or yelling about professional wrestling to his wife. If the stars properly align, he will talk about For Love Of The Game being the best baseball movie of all time.