30 Rock Watch: Season 7, Episode 9 - Game Over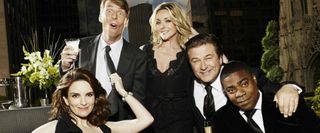 30 Rock seems to be setting up its final run of episodes with a game for the throne of CableTown between Jack and heir apparent Kaylie.
Another signal things are coming to an end is every big guest star is back, Leo Spaceman is appointed Surgeon General of the U.S., Chloe Moretz is back as Kaylie, Will Arnett is plotting with her as Banks and Steve Buscemi is on the case for Jack to try and bring the heir down. That's a lot of star power right there, but they manage to squeeze in even more in the B and C story lines; more on them later.
Jack's boss Hank Hooper is about to retire, as he is turning 70, and he informs Jack that he will be assistant C.E.O. to Kaylie as she learns the ropes on the board. Jack decides to try and derail her standing with Hank and he can only do so by enlisting the help of P.I. Lenny Wosniak and his arch-nemisis Devon Banks. Both Kaylie and Jack seem to have devious plans in motion and the games twists inside one another. There are tons of weird oddities, Jack's cannon paintings obsession, Jenna's obsession with impressing Kaylie, Lenny's cross dressing undercover plan, and the puns surrounding Banks never get old. Surprisingly it is Buscemi who steals the show in the story line with never ending weird twists as he dives deeper into his undercover persona. The plots twists actually converge in a nice little game of gotcha as Jack ends up playing both Devon and Kaylie and as we head into the final episodes Jack is in line to finally become C.E.O.
The B & C story lines are rather complementary in their end games as Liz contemplates adopting a grown child and Tracy has to attempt to wrangle the female version of himself, Octavia Spencer. Dr. Spaceman prescribes hormone injections to help Liz get pregnant but the side effects might be too much to manage. The majority of the laughs come from said side effects, but they are limited to mood swings and a misshaped breast. Liz begins to contemplate adoption again and discovers there are plenty of children to adopt that are a little grown up. She isn't sure if she can handle it though and that's were Tracy comes in.
Tracy's story is even lighter than Liz's as he basically just has to deal with a rather unfunny and crazy Spencer. To try and counter himself he tries to act like the only person who can tame him, Liz Lemon. Tracy can't handle the rehashed Tracy Jordan shticks they give Spencer to do and overall the plot line falls extremely flat. I wish they would have replaced Spencer with a previous guest who killed it or someone that was actually funny. The moral of the story is that Tracy realizes if Liz could handle someone like him then she should certainly be able to handle a child and Liz decides to make the call. Neither of these plot lines did much other than get Liz to decide to make a move on the adoption thing, but they at least provided a couple laughs and didn't steal much screen time from the excellent A story line.
Well, we are only three weeks away from the 30 Rock series finale and our two leads seem to be on the Verge of what they always wanted. Liz is getting a kid and Jack is working his way to the very top and the episode continued the mostly great trend of writing on the show this season. We are almost to the end, are you ready?
Random Ramblings:
-Dr. Spaceman!
-"Look down while holding an Oriental fan over our private regions."
-"Had my first white child."
-"It will work great, like Conan and Jay!"
-I need a "There, there." card.
-"Octavia, excellent, your black."
-Buscemi! He is a hell of a private detective.
-"You win sex against a man, that's as straight as it gets."
-"I've got a ton of her Dad's."
-"You'll never see me again, I'll be on a beach somewhere."
-Paintings of canons?
-"I would have been a Nazi." This is the line of the week.
-Gadzorp?
-Timberlake slam!
-I quit cows. Tell your husbands I tried."
-"To who knows?"
-Jan Foster lives on.
-"Last word."
-Farts, ah.
-"Let me just have one baby."
-"Those LEGO men were on a mission to save the other LEGO men I swallowed."
Your Daily Blend of Entertainment News
Thank you for signing up to CinemaBlend. You will receive a verification email shortly.
There was a problem. Please refresh the page and try again.