5 Deserving Shows That Will Probably Never Attain Emmy Gold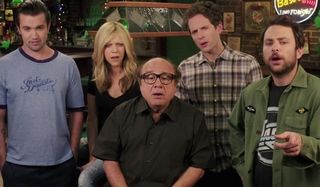 In the grand scheme of things, awards aren't as important to a series as consistent ratings and a dedicated audience, but there's a difference in prestige between calling something a "fan-favorite" show and an "award-winning" show. The goal will always be for gold, but it's become clear over the years that Emmy voters have very little interest in giving certain series their due justice, for one reason or another. We'd love to picket down the streets of Emmyville, raising hell every time a deserved nomination slips through the cracks, but sometimes one just has to accept the way things are. And we accepted those things once again with this morning's nomination reveals.
As such, here are five series that never got the Primetime Emmy attention they deserve, and probably never will. This obviously isn't an exhaustive list, and doesn't reflect the entire TV landscape, but these are series that have been on for multiple years that mostly retained the same level of quality and enjoyment. To be clear, some have been nominated and one even took home an award, but not in one of the top categories. (Not that I'm trying to be an elitist here.) So pour yourself a nice big can of wine and read on!
It's Always Sunny in Philadelphia
Like every show on this list – spoiler alert! – It's Always Sunny in Philadelphia works best with its brilliant ensemble cast all on screen at the same time, yelling loudly while madness envelops them. For nine seasons now, with more on the way, The Gang has built a rock solid reputation for itself that neither Nightman nor Dayman would ever dream of challenging. Everything about this show is comedy gold, from a career-best Danny DeVito to the imploding plotlines to the revolving door of side characters that Dennis (Glenn Howerton), Charlie (Charlie Day), Mac (Rob McElhenney) and Dee (Kaitlin Olson) inevitably treat like garbage in order to get their way.
Season 9 was predictably just as hilarious as each of its predecessors, with highlights including The Gang's attempt to correct their lifelong mistreatment of others, as well as Mac Day and the unparalleled lunacy of the episode "The Gang Makes Lethal Weapon 6." And if there's any question that It's Always Sunny should make this list, this season even had the episode "The Gang Tries Desperately to Win an Award," in which they miss out on winning "Best Bar in Philadelphia," so they head out to mess with the trendy winning bar. If only The Gang could wander through this year's Outstanding Comedy Series list.
Parenthood
Parenthood has been on the air for five seasons and in that time, this fantastic family-focused network TV drama has only received one Emmy nomination, and that was in 2012 for Jason Ritter (Outstanding Guest Actor in a Drama Series). At this point, if Parenthood hasn't gotten the Academy's attention with its outstanding writing, moving story arcs and spectacular acting, odds are, it probably never will.
Parenthood might not be delivering the gritty kind of drama that tends to draw award nominations, but it regularly delves into the challenges of family, marriage and parenting in way that's both entertaining and relatable. For Season 5, it was marital struggles for Julia and Joel, political aspirations for Kristina, and a frustrating but necessary separation for Camille and Zeek as they were faced with conflicting ideas about what they wanted out of life. Even if it couldn't make the list for Outstanding Drama Series -- network TV shows rarely do these days -- it would be nice to see Parenthood's cast praised for their efforts. Alas, the series was snubbed once again this year. On the bright side, while the Academy may not recognize the series often, NBC has continued to support the series. We may not see Parenthood on Emmys night, but it'll be back on the air for Season 6 this fall!
Community
While I'd just as soon forget that its Dan Harmon-free Season 4 ever existed, I thought that Community did a fairly excellent job this past season of regaining its lost pathos and refocusing the frequently sardonic satire. But still, no recognition for those efforts from the Emmys, which has only ever given the pop culture savvy series attention for Chris McKenna's timeline-jumping "Remedial Chaos Theory," which lost to Louie's "Pregnant." To be fair, Drew Hodges did take top honors for Outstanding Individual Achievement in Animation for the Claymation in 2011's "Abed's Uncontrollable Christmas," but the series was deserving of much more in its prime.
Community's cast and crew will have even more trouble getting rewarded for their efforts now that the series is moving from NBC to Yahoo!, though this year's abundance of Netflix series noms could give way to more online projects in the future. Still, the doomed combination of Donald Glover's absence and a past-its-prime Season 6 will likely keep the comedy from making big waves when nominations are announced next year. Maybe we should start looking forward to how well a Community movie might do at the Oscars. Jonathan Banks: For Your Consideration.
Sons of Anarchy
Sons of Anarchy fans have been riding through SAMCRO's world for six seasons now, and Kurt Sutter's dark and hyper-violent drama has yet to bag any nominations other than a first-year nod for Curtis Stigers & the Forest Rangers' theme song. Sons is approaching the end of its planned seven-season run, and there's a slight chance that the Hamlet-inspired plotting will transcend its dirty biker stereotype in Emmy brains to finally get recognized as one of TV's most exciting and enticing dramas. (The mass amounts of dark and odd comedy don't hurt the dramatic tone, either.) But that probably won't happen, because hoity-toity prestige series like Mad Men don't have scenes where characters drown people in tubs full of piss.
So maybe I can accept that Sons of Anarchy won't find an Outstanding Drama Series award in its future, but it's gash-smashingly ridiculous that Katey Segal hasn't ever been on the receiving end of an Outstanding Lead Actress nomination. (I'm pretty sure if she made threats with a carving fork, she'd get nominated for any category she asked.) I'm equally bummed that Walton Goggins isn't up for Outstanding Guest Actor for playing the transgender starlet Venus Van Dam, whose appearance this season was in a much more emotional place than her S&M-infused debut appearance. Will this be the year Kim Coates or Tommy Flanagan runs and guns it hard enough to find Supporting gold? I say yes, but I won't be looking life in the eye as I say it.
Workaholics
Like It's Always Sunny, the Comedy Central series Workaholics has slowly built up a rabid quote-spewing crowd of bowl-schmoking tight butthole fans. Though it was nominated in 2013 for Outstanding Stunt Coordination for a Comedy Series or Variety Program, that hardly reflects the top notch work delivered by the cast and writers, who have spent the last four seasons turning blatant ignorance and rage-fueled passivity into an artform. It's unclear to me how Jim Parsons repeatedly gets nominated for Big Bang Theory's yawn-worthy Sheldon Cooper, while Adam "DeMamp" DeVine never gets put in the spotlight for delivering a more energetic performance than anything network TV has ever seen.
Okay, so even if DeVine and co-stars Anders Holm, Blake Anderson, Maribeth Monroe and Jillian Bell all get shunned, why can't the writers and/or director Kyle Newacheck get some love? (Newacheck also plays Karl, the resident dealer and arguably the show's most blissfully dopey character.) Not only did Workaholics's Season 4 contain the ecstasy-laced suburban baby shower rave and a quasi-documentary about Karl getting his dick cut off, but we get to see the guys going clown for children's parties and attempting to steal a bunch of beer by pouring it into the back of a truck. And the only thing better than watching the guys one-up each other in exceedingly crude and immature ways is seeing them fall head-over-heels for a dude even dudeier than they are. (Stan Halen!) This isn't the most HIGHbrow material in town, but it deserves a place next to the staid comedy of Modern Family and The Big Bang Theory.
BONUS ENTRY: Chopped
With a pronounced focus on sticking to the basics and a lack of exploitative personal drama – although dead relatives play a large part in contestant stories – Chopped is probably my favorite reality show of all time. Weird food. Interesting meals. Big pressure. Respectable judges. It's all there. And just once I'd like to open the basket and see Ted Allen up for Outstanding Host over Heidi Klum or Tom Bergeron.
Your Daily Blend of Entertainment News
Assistant Managing Editor
Nick is a Cajun Country native, and is often asked why he doesn't sound like that's the case. His love for his wife and daughters is almost equaled by his love of gasp-for-breath laughter and gasp-for-breath horror. A lifetime spent in the vicinity of a television screen led to his current dream job, as well as his knowledge of too many TV themes and ad jingles.