6 New TV Shows That Will Still Be On The Air In 5 Years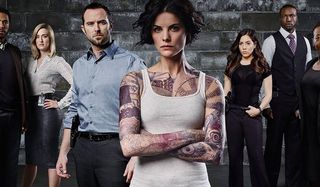 There's no question that every TV season produces some winners and some losers, and this year a ton of low-rated programs, from The Player to Blood & Oil, have already seen their episode orders cut. However, among those poor performers, there are plenty of diamonds that have managed to earn good—if not great—reviews and an avid fanbase.
Each year, we put together a list of the shows we feel will have enough longevity to move forward, not just for a second season, but over the long haul. Predicting a show's trajectory is not easy or exact, of course, as sometimes shows will reboot, lose a showrunner or take a tumble in the ratings after trying out a storyline that fans just don't dig. Regardless, thus far this season, there have been six shows that have shown signs of sticking around for a long time to come. Without further ado, here are the six programs we feel will still be on the air 5 years from now. Let us know if you agree or think we missed any in the comments, below.
Blindspot, NBC
While NBC also spent a lot of time marketing Heroes Reborn, Blindspot has been the clear winner of the network's 2015-2016 fall schedule, pulling in solid numbers each week. The Jaimie Alexander-starrer is averaging 12.7 million total viewers and a 3.7 rating, plus NBC has already announced that Blindspot will be returning for Season 2. This show has a bright future in front of it, and we'd be shocked if it didn't make it to the five-year mark. Now, NBC just needs to pair it with The Blacklist, and my viewing schedule would be set.
Limitless, CBS
The flashy, bold and sometimes innovative Limitless is one of the few procedurals that is turning the genre on its head right now. Starring Jake McDornan and Jennifer Carpenter and featuring performances from Bradley Cooper himself, the movie-turned-TV series has been innovative with its FBI storyline, featuring plenty of interesting storytelling devices and even fun gimmicky episodes for fans, including a recent one that nodded at Ferris Buehler's Day Off. It only seems to be getting better since its pilot, and it has a strong audience, too. We expect this one to be around for quite some time.
Quantico, ABC
Quantico comes from Criminal Minds producer Mark Gordon and has a loyal following, although many people are watching on DVR. The most recent episode did a 2.56 rating in Live+3 numbers and increased its audience by 92% in timeshifted viewing. Even though ABC's Sunday night draw is a bit lackluster, Quantico is a shining star, and the numbers are good enough that the network has signed on for extra episodes. I have no idea where Quantico could possibly go if the network orders a second season, but I hope it sticks with the format and gives us a new plot that is equally as thrilling. If the fast-paced narrative keeps up the thrills, this should be one fans can see for years to come.
Ballers, HBO
This one's a bit of a cheat as it had a summer premiere, but too often shows with summer premieres don't make these lists because they don't fall within the regular TV cycle, and this one really deserves to be here. Why? Because it features Dwayne Johnson and is a savvy, fun comedy that also happens to be filled with sports cameos. The Miami-set series is already renewed for Season 2, and we don't think getting to a fifth season is a stretch. Find out when Season 2 premieres.
Supergirl, CBS
Two weeks ago, Supergirl was sitting pretty as one of the highest-rated fall premieres. We know this show has dropped viewers since it premiered on CBS. On the bright side, it still did a 1.7 same day rating this past week, which puts it far and away ahead of a lot of other innovative fall shows, including the likes of The Grinder. Supergirl is also doing better ratings than The Flash or Arrow, not to mention Gotham, so it's definitely the most popular DC TV series. Five seasons doesn't seem like a stretch, at all.
Fear The Walking Dead, AMC
The prequel to popular zombie drama The Walking Dead had a built-in audience from the start, and earned a Season 2 renewal even before the first season aired. It also did quite well in the ratings, although has not amassed quite the same fanbase that AMC's other zombie drama has. Still, this show should coast to five seasons, and maybe even beyond. The zombie apocalypse sucks, but it's sure good for ratings.
This poll is no longer available.
Reality TV fan with a pinch of Disney fairy dust thrown in. Theme park junkie. If you've created a rom-com I've probably watched it.
Your Daily Blend of Entertainment News
Thank you for signing up to CinemaBlend. You will receive a verification email shortly.
There was a problem. Please refresh the page and try again.