Fear The Walking Dead Season 2: What We Know So Far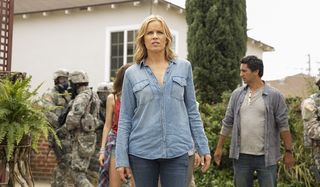 There's a good chance you're all caught up with Season 1 of Fear the Walking Dead, since its finale was six months ago and there were only six episodes to watch in the first place. And even though it lost some viewer steam in the later installments, it was something of a ratings juggernaut when it first premiered , so AMC likes to repeat the hell out of the show. Thankfully, we don't have much longer to wait until the next batch of episodes arrives and fills the Pacific coast with the undead for Season 2. Here's everything you need to know before that happens.
When Will Fear The Walking Dead Season 2 Air?
AMC announced that Season 2 of Fear the Walking Dead will debut on Sunday, April 10, which is way earlier than the Season 1 premiere in late August. The sophomore season will have more episodes, so the early release is understandable, and it also means that audiences don't have to wait nearly as long for a follow-up season. But this puts it airing on the same night as Season 6 of Game of Thrones, so it'll be interesting to see how that will play out where the ratings are concerned. I expect the delayed numbers will be kinder than the initial numbers might indicate.
What Have We Seen From Fear The Walking Dead Season 2?
We're so close to Season 2 that we can taste it - and it does not taste like barbecue sauce, no matter what anyone tells you - and AMC has been kind enough to drop a few teasers on our laps over the past few weeks, although nothing that falls under the category of "full-length trailer." That said, the bits we've gotten are pretty intense and make it look like Season 2 will kick off with way more action and drama than it did when we first met Madison, Travis and their respective families. Ease into things with this first one, which uses some fast-paced editing to set a mood of floating saltwater mayhem.
Now you can dive brains-first into the next promo below, which ratchets up the dread and the suspense, introducing multitudes of both zombies and survivors. Given how non-wonderfully Travis and Daniel react in certain situations, I'm not placing any bets on which of those two groups will be around longer than the other.
Be sure and stay tuned for more trailers as they're released. Hopefully we'll be getting something larger and more cohesive in the coming weeks.
Who Won't Be Back For Season 2?
The only main character who met her maker before the season finale aired was Griselda Salazar, Daniel's wife, who got her leg amputated at the field hospital and eventually had to be put out of commission, a task taken on by Liza. So Griselda clearly wasn't destined to be a multi-year character.
The season finale saw many military men getting their body parts munched on by the walker wave that Daniel let loose from the arena, and though it looked like the central squad had made it through without any major injuries, Liza revealed to Madison that she had been bitten. Travis, who bruised his knuckles earlier in the episode on Andy's face, had his second mentally crippling moment when he was forced to shoot Liza in the head before she could turn. So while Liza may reappear in a memory or dream sequence tied to Travis and/or Chris, her days of living and breathing in the present are over.
Otherwise, we can expect that just about everyone else will continue on through at least part of Season 2, unless Daniel forgets to change the dressing on Ofelia's bullet wound and she gets infected and takes out everyone at the end of Episode 1, with Episode 2 following an entirely different set of characters. But that probably won't happen.
What New Characters Will Be In Fear The Walking Dead Season 2?
Somewhat surprisingly, casting news for Fear the Walking Dead Season 2 didn't start making the rounds until a little over a month ago, which either means the show got really good at clamping down on spoilers or that these characters don't actually enter the show until way later. Either way, it'll be good to get some fresh blood.
First up, as seen above, is actor Arturo del Puerto, who has appeared on the small screen in recent years in such shows as The Bridge, Chicago P.D. and The Lottery. Del Puerto is set for a recurring role as Carlos, someone who plays everything close to the vest, which probably won't make him a welcome personality in a world where being suspicious goes a long way in making one's life really short. But he also has a firm grasp on understanding the world in a spiritual sense, so who knows where that will get him?
Veronica Diaz is also set up for a recurring role, and she'll be playing a character named Vanessa, who is both intelligent and innocent-looking, though that only hides her more deceptive nature. She is described as being one who immerses herself in things with little caution. The star and producer of a bunch of short films, Diaz has appeared in episodes of Criminal Minds, Complications and Code Black.
Unfortunately, details aren't quite as plentiful for the character being played by Dougray Scott, and we don't even know what his name will be. There was some speculation that he might be a decent soul of a character named Casey noticed in casting calls who turns out to be an unexpected leader of sorts. Scott's early career was spent on films like Mission: Impossible 2 and Ever After: A Cinderella Story, but the actor has been a TV mainstay in the past decade on shows like Desperate Housewives, Heist and Hemlock Grove, and he'd be believable in a leadership role.
Somehow, even less is known about the character that will be played by Daniel Zovatto, who is also set for a recurring role. His name? Unknown. His skills? Unknown. Could he be a guy who hides out from the undead by wearing a big and startlingly realistic lion costume? It's technically possible. Zovatto is arguably most recognizable to genre fans for his work in 2014's highly touted horror It Follows, and he's also appeared on TV shows such as Agents of S.H.I.E.L.D. and Revenge.
It seems like there should be more than just four new characters coming to Fear the Walking Dead Season 2, but maybe others will be announced as time goes on.
What Can We Expect From Fear The Walking Dead Season 2?
While it's hard to gauge exactly where Season 2 will pick up – as in on land or on the water – we know that our central gang of survivors will join Victor Strand aboard his yacht Abigail, as they attempt to…I'm not sure, really. Heading out on a boat is just destined to bring failure in this kind of an apocalypse, but at least this plan will put these characters in a situation that we haven't seen before from either of AMC's zombie dramas. There have been a few times when fiction took the undead on the high seas, but I can't remember it ever happening on TV in the past. (Which isn't to say it hasn't been done or anything.)
As seen in the previews, the group will come across a raft full of people needing some semblance of safety. At least, assuming they're not all part of some con. Most of them will probably be desperate enough to try and force Madison and Travis' group to help them, which could get ugly really quickly. As well, there are undoubtedly other boats and vessels on the water that are populated by reanimated folks, and the ocean itself should be a delightfully morbid scene of floating and groaning bodies.
As well, we'll be introduced to a a new character that will come from the Flight 462 mini-miniseries that has been airing during commercial breaks for Walking Dead's Season 6. It's currently in the final batch of episodes, so the "winning" character will presumably be revealed next month.
It's possible that Season 2 will match up to the beginning of The Walking Dead's timeline, at least at the point when Rick wakes up from his coma. But it's not clear how fast the show will progress from that point. There still aren't any plans for a crossover, even though people are going to keep asking for it, but that could always change as time goes on. Probably not in Season 2, though.
While this show is already a series-length Walking Dead flashback from a different part of the country, Fear the Walking Dead might take on a few flashbacks of its own at some point. While getting a straight answer out of the show's creative team is like milking a brick, showrunner Dave Erickson has stated that these characters do indeed have rich backstories that could be good ways to inform the narrative moving forward. That doesn't mean definite flashbacks, but the possibility exists.
And as far as the episodic presentation is concerned, viewers can expect to see the first 7 episodes of Season 2 airing in the spring, while the back 8 episodes will return to AMC later in the year. It's the formula that has worked for The Walking Dead, and the second half of the season will likely air closer to the premiere of the flagship series. Perhaps that's why the casting news has been so light at this point, and the first half of Fear the Walking Dead Season 2 will be on the water, while the second half will reach some other part of the mainland, where other living and breathing characters can be introduced and given a scathing side-eye by Daniel.
Will There Be A Season 3 Of Fear The Walking Dead?
When AMC put in its initial order for the Walking Dead companion series, two seasons were on the table, with a shortened first season branching out into something larger in the next year. We have yet to see just how successful Season 2 will be, and that is probably just what AMC is waiting for before making a firm decision on where to take Fear the Walking Dead from here. We can probably expect to hear something one way or another by the time the first half of Season 2 finishes airing in the summer.
And if we're being realistic, there's already a good chance that AMC is going to keep this series going for as long as a substantial amount of people are willing to tune in. There are already murmurs about a second Walking Dead spinoff being a possibility in the future, assuming there's a good enough story to back it up, so it would probably take a disaster just shy of zombie apocalypse in order to get the network to sever any links to this show. But I've been wrong before.
Where Can I Watch Fear The Walking Dead Season 1?
If you've somehow missed out on all the chances to watch Fear the Walking Dead Season 1 in all the times that AMC aired it, fear not! The show is available for streaming in full over on Hulu, and that's the only place you'll be able to locate it as far as common streaming services are concerned, as it's not on Netflix or Amazon.
Of course, if you're into doing things the old school way without going through any subscription-based middlemen, you can always head directly to AMC's website to watch all the Season 1 episodes, complete with something like 435 minutes of commercials for each one. But you can also watch several extras and behind the scenes videos on the site, so that might make up for all the ads. You can watch many of them on Hulu as well. Make your choice.
Stay tunes for more news about Fear the Walking Dead Season 2 as it is revealed, and be sure to follow CinemaBlend on Facebook and on Twitter, as well as on YouTube.
Your Daily Blend of Entertainment News
Assistant Managing Editor
Nick is a Cajun Country native, and is often asked why he doesn't sound like that's the case. His love for his wife and daughters is almost equaled by his love of gasp-for-breath laughter and gasp-for-breath horror. A lifetime spent in the vicinity of a television screen led to his current dream job, as well as his knowledge of too many TV themes and ad jingles.