Blood & Oil's Future Is Looking Bleak, Here's Why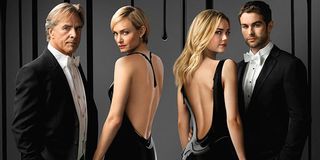 While fans haven't seen a glut of cancellations thus far this season, networks have quietly begun trimming the episode orders of shows that are not doing so hot. Recently, ABC announced the network would be cutting the episode order for its freshman drama Blood & Oil. A soapy storyline and Don Johnson likely won't be enough to save the ABC Sunday night program from getting dropped at the end of the season.
Regardless, first fans will have to contend with less episodes of the series. If Blood & Oil had been going well, this likely would have been an announcement about the show getting its back nine order, bringing the episode count up from 13 to 22. However, that's certainly not what this article is about. Instead of letting Blood & Oil go quietly into the night after 13 episode, ABC is reducing that number to only 10. Five episodes of the series have already aired.
After a pretty decent start, Blood & Oil's numbers faltered in subsequent weeks. Beyond that, THR says the show suffered from problems with its creative vision. Numerous re-castings occurred while the show was heading to air, and apparently Josh Pate and showrunner Cynthia Cidre's vision didn't match with ABC's, and Dirty Sexy Money's Jon Harmon Feldman was brought in to try and hit the notes the network wanted. It sounds like it's been a mess, and it's a mess that few audiences wanted a part of.
This doesn't mean that Blood & Oil is cancelled at this juncture. If the show turns a corner and manages to entice a large percentage of viewers to get back on board, sure it could come back for a second season. However, since the show's more recent episodes have dropped from 6.3 million total viewers to 3.5 million, it's not looking particularly hopeful.
Most of the major networks have had at least one new program that hasn't performed up to snuff. Fox was the first to make a scheduling change when the channel cut Minority Report's episode order down. Over at NBC, the flashy but oddly premised The Player hasn't managed to engage large audiences in the Thursday at 10 p.m. timeslot, leading to the network dropping a few episodes. Just like Blood & Oil, if those numbers don't see some sort of turnaround, it's unlikely that fans will get to see a second season.
It's pretty interesting that none of the networks are outright canceling shows during the 2015-2016 TV season and are instead biding their time before they make a decision. Still, at some point we'll learn the ultimate fate of Blood & Oil and others. Stay tuned to find out more.
If you are still watching Blood & Oil, new episodes will continue to air in the show's usual timeslot on Sunday nights at 9 p.m. ET.
Reality TV fan with a pinch of Disney fairy dust thrown in. Theme park junkie. If you've created a rom-com I've probably watched it.
Your Daily Blend of Entertainment News
Thank you for signing up to CinemaBlend. You will receive a verification email shortly.
There was a problem. Please refresh the page and try again.