9-1-1 Boss Is Teasing The Return Of An 'Unexpected' Character, And One Familiar Face Has Already Been Ruled Out
9-1-1 has more surprises in store.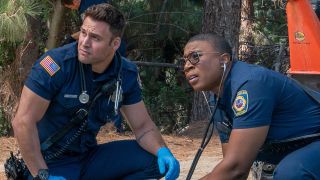 (Image credit: Fox)
Warning! Spoilers ahead for Season 6, Episode 10 of 9-1-1, "In a Flash," so read on at your own risk!
Fox's 9-1-1 finally returned after its winter hiatus, and the midseason premiere was a doozy. Mainly, fans were left on edge after Buck got struck by lightning (and, yes, you read that correctly). With the sixth season slightly past the halfway mark, it seems the series isn't looking to pull punches for the remaining episodes. And apparently, there are still some surprises in store as well, including a visit from an unexpected character -- though we can already rule out one familiar face as the person in question.
Season 6 of 9-1-1 has already seen some major surprises, like the tragic Bobby twist at the end of the midseason finale. And if that weren't enough, the next episode will go the "What if?" route, as Buck's coma will place him in a dream world of some sorts. However, folks may now be most excited for that character return, which EP Kristen Reidel discussed during her interview with TVLine. She didn't offer up too many details, but the tease the producer provided should get fans excited:
Over the years, 9-1-1 has seen characters come and go, much to the shock and sadness of fans. So it's hard to predict just who'll be reappearing, though it does sound like it's someone viewers initially met during the early seasons. And of course, from a narrative standpoint, one also has to consider how and one such a person is returning to the fray. Could the development be initiated by another emergency at season's end? That's unclear, but what we do know for sure, thanks to Kristen Reidel, is that a former main cast member isn't the one who checks the box:
Connie Britton portrayed dispatcher Abby, who also became Buck's love interest during the first season of the first responder drama. Though she'd exit the show after Season 1, Britton returned in the Season 3 finale, during which Abby and Buck had a deep talk and received much-needed closure as a result. Considering her past role, it's somewhat disappointing to learn that she's not the one set to head back to the show. Nevertheless, I'm still excited that the producers are re-introducing someone.
It's likely that we can also rule out Buck's ex, Taylor, since the two broke up last season and had some messy situations leading up to that split. One possibility could be Henrietta's ex, Eva. Hen and Karen's son, Denny, has been seeing his dad more often and, because Eva is his biological mother, this growing bond could provide the means for her to reappear. Of course, I could be totally off base here. Based on Kristen Reidel's comments, it'll be a while before this development occurs, so you can bet that fans (like myself) will be speculating until then.
New episodes of 9-1-1 air on Mondays at 8 p.m. EST on Fox. Also, check out CinemaBlend's 2023 TV schedule for info on the other small-screen offerings that are headed your way this year.
Your Daily Blend of Entertainment News
Passionate writer. Obsessed with anything and everything entertainment, specifically movies and television. Can get easily attached to fictional characters.