9 Goofy Boy Meets World Cameos Where The Celebrities (Mostly) Played Themselves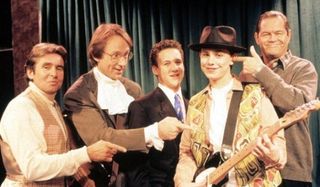 Tonight, June 27, the Disney Channel debuts the family comedy series Girl Meets World, the generation-traversing sequel to the hit 1990s ABC sitcom Boy Meets World. While we're sure Girl Meets World will revolve around the same kind of cheesy sanitized jokes and emotions of the original, there's no way this update will be able to come close to touching its predecessor in terms of guest stars and cameos.
Everybody from Adam Scott to Linda Cardellini to Blue Blood's Will Estes put some time in on Boy Meets World. And while it's always fun to see a familiar face playing a silly one-off character, it's just as fun to go back and remember the cameos in which the celebrities are playing themselves. Here's a quick run through of the nine silliest celebs that graced the lives of Cory Matthews & Co. Let's also remember that some of these were undoubtedly Sweeps Week choices.
Big Van Vader and Mankind
Any time a wrestling ring is on the set for a primetime sitcom, you can only hope a pro wrestler or two is going to show up. Boy Meets World went to the squared circle several times, most often with Leon "Big Van Vader" White, the masked behemoth who appeared multiple times as Frankie Stechino's dad, who always ended up fighting children for some reason. Jake "The Snake" Roberts was also in one of those Vader episodes, along with longtime referee Earl Hebner. But that's not all.
Mick Foley also showed up in one episode as his alter ego Mankind to give Eric some advice, which was soon followed by Socko coming out for the mandible claw. It could have been called Boy Meets World Wrestling Federation.
The Monkees and Dave Madden
Nobody was hipper in 1995 than the Monkees and Partridge Family star Dave Madden, right? That's probably an exaggeration, but that's also what made Boy Meets World appear timeless, despite being unmistakably created in the 1990s. The Monkees, minus Mike Nesmith, appeared on the show as a completely different act, due to some behind-the-scenes issues. It's an insanely goofy episode now, as it involved Corey and Shawn trying to put on a rave. I'm guessing Dave Madden was bringing the molly.
Chris Hardwick
He's the head and face of Nerdist Industries now, but podcaster/talk show host Chris Hardwick first broke out as Jenny McCarthy's stubbled hosting mate on MTV"s dating game show Singled Out. In a Season 4 episode, Eric Matthews landed on the show, and found out a little something about love, as well as himself. Or something. Nobody found out anything about Hardwick.
Nancy Kerrigan
Olympic figure skater Nancy Kerrigan was in the middle of a controversial attack in 1994, and just a year later appeared in Boy Meets World, one of the least controversial TV shows in history. For a Season 2 episode, Eric wanted to learn how to skate in order to nail a girl, and dreamed about Kerrigan teaching him some skills, and he was pretty awesome at it, while he was asleep. Why can't shows like True Detective have surreal dreams like this?
Pat Morita
For a sci-fi-themed Season 3 episode, Cory complains about life being hard in the present, and so of course he ends up getting zapped back into the 1950s while plugging in a microwave. Everything and everyone is the same, only with an oldies approach. One difference is Tom Bosley's presence, and another is Pat Morita, who plays the "Wise Man," a role that old Asian men often get, or at least used to. It's not really what I think Pat Morita was like in real life, but it was definitely the "Pat Morita role" that he had to deal with after the original Karate Kid made him a sage life guru.
Jennifer Love Hewitt
In another gimmick episode from Season 5, the kids at John Adams High are dealing with a murder mystery. Jennifer Love Hewitt, still riding that sweet, sweet I Know What You Did Last Summer fame, stars as Jennifer Love Fefferman, a red herring suspect who eventually gets crushed to death by two piles of books. It's all a dream, mind you, so she didn't really die, but it's still one of the cooler on-screen deaths in TGIF history.
Yasmine Bleeth
Not the only Baywatch star to draw the male gaze on Boy Meets World – Nicole Eggert also appeared in an episode –– Yasmine Bleeth plays herself as a girl who just happens to date Griff (Adam Scott) because of how cool he is. Not to mention she's at a private fight between two high school students. Nothing like that happened at my school.
Assistant Managing Editor
Nick is a Cajun Country native, and is often asked why he doesn't sound like that's the case. His love for his wife and daughters is almost equaled by his love of gasp-for-breath laughter and gasp-for-breath horror. A lifetime spent in the vicinity of a television screen led to his current dream job, as well as his knowledge of too many TV themes and ad jingles.
Your Daily Blend of Entertainment News
Thank you for signing up to CinemaBlend. You will receive a verification email shortly.
There was a problem. Please refresh the page and try again.