ABC 2011 Fall TV Premiere: Pan Am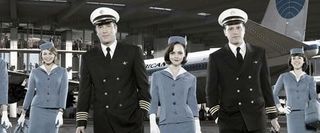 The idealized 60s have been captured to near perfection by Mad Men. Now ABC is bringing us Pan Am, which aims to showcase the 60s attitude toward luxury flying. Only the best, and the best looking, get to work for Pan Am. The freewheeling cocky pilots, the perfect young stewardesses, and the opulent attitudes of the people are all reminiscent of Frank Abignale's Catch Me If You Can.
The new series is an original concept; so don't expect to see any conmen or FBI agents chasing people. Pan Am is about the stewardesses and pilots of Pan Am during the "Jet Age." The images, videos, and synopsis of the show certainly ascertain that the aesthetic will be maintained. The real question is how the tone of the time will be handled. While some may see this age in our country's history as sexy and stylistic, it was just as much a time of sexism and misogynistic policies. We've begun to see, through Mad Men, how society begins to slowly change from the perspective of Madison Ave; will Pan Am tell that story from 30,000 feet?
Below is ABC's synopsis for the series and further down are a few clips from the premiere episode:
Pan Am will begin airing Sundays at 10:00 p.m. ET on ABC this Fall.
CLICK HERE to view ABC's Fall 2011 Primetime Schedule.
Image ©ABC
Image 1 of 24
Your Daily Blend of Entertainment News
Staff Writer at CinemaBlend.