ABC's True Beauty Judges Character Over Looks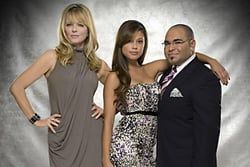 It seems to be a common thread that reality shows mostly center on pretty people, which I guess dims the whole concept of "reality" quite a bit, considering the real world consists of more than just people you might see on the cover of a magazine. ABC has a new series that, like almost every other reality show, centers on good-looking people. The twist is, the contestants aren't being judged for their outer beauty. It's what's inside that matters if they want to impress the judges, only they don't know that.
True Beauty follows ten hotties as they're put through a series of challenges, some of which relate to their looks and others, on their character. So while they're competing in photo shoots and things like that, they'll also be tested on their character, like how well they respect their elders and that kind of thing. In each episode, the judges (Vanessa Minnillo, Cheryl Tiegs and Nole Marin) will critique the contestants based on their behavior and eliminate one contestant each week. Only after the person is eliminated will they learn what they were really being judged on.
True Beauty is being exec-produced by Tyra Banks and Ashton Kutcher. Below is a featurette and a clip from the series. My favorite part is when Kutcher talks about the pretty people as though he's not part of that group. Ashton, in case no one's told you before, you're hot! That said, he has always seemed like a down to earth guy, so I'm willing to put his looks aside and appreciate his involvement in this series. I'm expecting lots of train-wrecky goodness as we see at least some of these contestants demonstrate just how ugly vanity can be. I'd also hope that there are a few people in the house who will prove that it's ok to have a pretty face, gorgeous body and a great personality to match.
True Beauty premieres Monday, January 5, 2009, 10:00-11:00 p.m., ET.
Image 1 of 1