AFI Awards Honor Breaking Bad, Masters of Sex, Veep, And More As Best Of 2013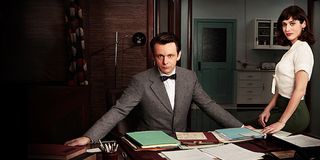 Monday marked the announcement of The American Film Institute's official selections for the 2013 AFI Awards, including 10 of the year's most outstanding television series. As selected by a panel of highly impressive judges, the list — now in its fourteenth year — was crafted to showcase the most "culturally and artistically representative of the year's most significant achievements in the art of the moving image." And this year's selections from the small screen are no slouches, including its fair share of longstanding icons (Breaking Bad) and fresh new faces (Orange is the New Black).
What's exciting about the AFI Awards over others during this wacky season of accolades is their commitment to honoring the entire creative team involved in creating the television (and movies — but that's a list for the other side of the site) programs selected. When you consider that most award shows merely stick with honoring actors, writers, directors, and a smattering of other more visible positions, the AFI list feels like an especially welcome and inclusive one. Television and movies are big productions, after all, and the collaboration that goes into each and every episode and/or frame is no small feat.
According to AFI, "honorees are selected based on works which best advance the art of the moving image, enhance the rich cultural heritage of America's art form, inspire audiences and artists alike, and/or make a mark on American society." So it is no surprise that the winners on the list include some of the most buzzed-about and insta-classics the small screen has seen in recent years.
So what are those 10 programs? Well…
The Americans
Breaking Bad
Game of Thrones
The Good Wife
House of Cards
Mad Men
Masters of Sex
Orange is the New Black
Scandal
Veep
As you can see, drama had one of its biggest years ever, leaving scarcely any room for comedic hopefuls, save HBO's brilliant Veep. Perhaps the most exciting additions, though, are the inclusion of several new programs — including Showtime's Masters of Sex, and Netflix's top-rated premiere series, House of Cards and Orange is the New Black — and the lack of returning efforts like previously-included Homeland and Modern Family. Only time will tell if other critics agree as more and more "Best Of" lists shuffle into view. For more information regarding the AFI Awards, click here.
Your Daily Blend of Entertainment News
Your Daily Blend of Entertainment News
Thank you for signing up to CinemaBlend. You will receive a verification email shortly.
There was a problem. Please refresh the page and try again.