Actress Accuses Cinemax Of Telling Actor To Bleed On Her During Sex Scene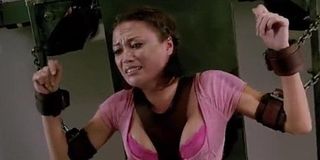 You know that actress in the midst of a legal war with Cinemax over the nudity clause in her contract? Well, she got a whole lot more specific with her allegations against the network, and in short, her claims are a bloody, disgusting and stomach-churning mess. In her latest legal documents, she accuses producers of letting a co-star bleed all over her naked body, making offensive comments about her "tits" and a whole lot more outrageousness.
The plaintiff in question is Anne Greene. She's probably best known for a pretty disturbing scene in Saw 3D, but moving forward, she'll forever be remembered for this lawsuit. Much about what happened is a hotly debated argument between the actress and Cinemax, but here's what everyone seems to agree on. She was hired to shoot an episode of the late night show Femme Fatales back in 2012. She was sent some prior episodes, showed up to set, filmed some clothed scenes and then expressed shock when she was asked to disrobe. Eventually, she agreed to shoot the scene with pasties on her nipples, but not long after the episode aired, she filed a lawsuit claiming an unsafe work environment and sexual harassment. Cinemax filed a countersuit, claiming she was manipulative, hard to work with, violated the terms in her nudity rider and cost them lots of money.
Now, in response to that countersuit, Greene and her attorney have decided to get really specific in why they think the set of Femme Fatales was such an unsafe working environment. They claim producers re-wrote the script several times, failed to close down the set, asked her offensive questions about the size of her nipples, threatened her with breach of contract lawsuits, yelled at her that no woman gets on the show without "showing (her) tits" and most disturbingly of all, let another performer bleed all over her naked body.
Seriously, Greene claims she was shooting a sex scene with only a sticker over her vagina with a male co-star who only had a sock over his penis when he started bleeding out of his mouth. Instead of stopping production, producers allegedly told him to continue simulating sex and bleeding on her.
Here's an actual quote from the legal brief, courtesy of The Hollywood Reporter…
It's really hard to imagine Greene had no idea she would need to get naked for a show called Femme Fatales, especially when she was given episodes to watch ahead of time. I mean look at this sizzle reel…
That being said, there are multiple issues at play here. Maybe Greene doesn't have a great case when it comes to her refusal to take off her clothes after allegedly signing a nudity rider, but it sounds like she has every right to be pissed about dudes bleeding all over her and the set not being closed down. It's those types of things that give soft-core pornography and shows with a lot of sexual content bad reputations.
The judge has given no indication of how he feels about any of this, but if he were to side with Greene, it could have giant ramifications for on-screen nudity throughout the entire industry. Whether they're willing to admit it or not, every movie and television studio in the United States is watching the events here very closely.
Enthusiastic about Clue, case-of-the-week mysteries, the NBA and cookies at Disney World. Less enthusiastic about the pricing structure of cable, loud noises and Tuesdays.
Your Daily Blend of Entertainment News
Thank you for signing up to CinemaBlend. You will receive a verification email shortly.
There was a problem. Please refresh the page and try again.