Cinemax Goes To War With Actress Who Refused To Show Her Nipples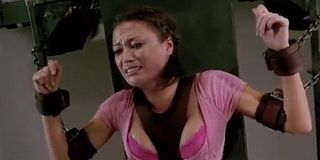 As a group, premium cable channels may be investing heavily in cutting edge original programming featuring some of Hollywood's best actors and actresses, but late at night, many still trot out the same types of soft core pornography programs that have been running for decades. The shows aren't particularly sophisticated or groundbreaking, but thanks to a new lawsuit, the genre could alter how the movie and television industry deal with nudity and nudity riders in contracts.
This case in question centers around an episode of Cinemax's Femme Fatales and an actress named Anne Lee Greene. She was in one of the Saw movies and more importantly, also appeared in a 2012 episode of this particular show entitled "Jailbreak". At the time of its airing, neither her performance nor the subject matter drew much of a reaction, but that all changed when she filed a lawsuit claiming she was sexually harassed and bullied into taking her clothes off and having simulated sex on camera.
For various reasons, the defendants, Time Warner, HBO, Cinemax and True Crime LLC, refrained from commenting at length in public when she first hired a lawyer, but this week, True Crime's own attorneys finally responded with a countersuit. It basically reads like a middle finger that takes Greene to task and paints her as a difficult, manipulative woman who cost the producers thousands of dollars and failed to honor the industry standard of bringing up any problems with nudity prior to the beginning of production. In short, it's a he-said-she-said mess, but considering the potential ramifications, it's worth it to outline exactly what each is saying.
Green reportedly first auditioned for Femme Fatales back in 2011. She tried out for two separate episodes and was later officially hired to play a lead in "Jailbreak". The producers allegedly sent her a copy of the script and a sizzle reel containing highlights from the 13 episodes that had already aired, as well as the prequel to her episode. All of this material was filled with erotic content, but Greene claims she didn't know she would personally have to disrobe.
Regardless, when she showed up to the set for the first of several days, nothing went according to plan. Her attorney told The Hollywood Reporter scenes were re-written on the fly, the set wasn't properly closed down and she was forced to disrobe under threat of a lawsuit. The producers claim she signed a nudity rider, then filmed non-nude scenes and only brought up her issue with the nudity that was in her contract right before the scenes were to be shot, thus forcing them to decide between reshooting everything or giving in to her demands. After much back-and-forth, producers allowed her to shoot the scenes with pasties on her nipples. They later brought in a body double to Frankenstein it and were allegedly forced to re-write an oral sex scene. All of that cost a lot of money, and now, they'd like her to pay them back for it.
The difference between asking someone to honor their contract and pressuring them to do something they're morally uncomfortable with can be a little blurry. In fact, the idea of threatening an actress with a lawsuit if she doesn't disrobe is enough to turn someone's stomach, but the entertainment industry is a business that relies on good faith and mutually beneficial exchanges. If a role requires nudity and someone knows that going into the production, it's not fair for the actor to shoot the non-nude scenes and attempt to use that as leverage to force producers to either remove the nudity from the script or hire a body double. That stuff has to be negotiated ahead of time.
Since none of us were on set at the time, it's impossible for us to know exactly what happened. Maybe she really had no idea there would be nudity involved. Maybe she thought she could handle it and ultimately couldn't. Maybe they sort of implied to her that they would show a little side boob and later decided to push for more direct nudity. Whatever the case may be, if the judge rules an actress can sign a nudity rider and change her mind prior to shooting the scenes, it will send shockwaves throughout Hollywood, especially since we're talking about a show as sexually forward as Femme Fatales. After all, if a woman hired to act in simulated sex scenes for late night Cinemax doesn't have to disrobe if she doesn't want to, one would imagine A-list actresses would have even more power to amend their contracts moving forward.
Such a decision would force companies to take a long hard look at how they do business, and it might even result in seeing less nudity on the screen. That's all purely hypothetical at this point, however. For all we know, the judge could quickly tell the actress she (allegedly) agreed to nudity and owed it to the company to follow through.
We will keep you updated.
Your Daily Blend of Entertainment News
Enthusiastic about Clue, case-of-the-week mysteries, a great wrestling promo and cookies at Disney World. Less enthusiastic about the pricing structure of cable, loud noises and Tuesdays.