Agents Of S.H.I.E.L.D. Is Bringing Back Lady Sif, Get The Details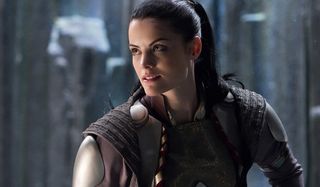 Agents Of S.H.I.E.L.D. likes one Marvel Cinematic Universe character so much that the ABC drama is bringing her back for another round. That's right, Jaimie Alexander, otherwise known as Lady Sif, is set to guest star on another episode of Agents of S.H.I.E.L.D. before the end of Season 2. However, this time Lady Sif will be in a spot of trouble.
The episode will follow Lady Sif making a splashy entrance on Earth. Apparently, Lady Sif will be on some sort of undercover mission and will take on a currently unnamed foe with superpowers. The two will clash on the coast of Portugal and people around the world will take notice, meaning the S.H.I.E.L.D. team feels the need to get involved. We're not certain what will happen during the epic battle, but by the time the S.H.I.E.L.D. team shows up, Lady Sif will have a bit of a problem: She won't remember what her job is or who she is currently attempting to track.
According to TV Insider, despite her loss of some memories, Sif will be able to help the S.H.I.E.L.D. team. The episode is expected to be a fun and humor-filled one, so presumably Sif is not in any long-term danger. Her guest appearance is not the first time Jaimie Alexander has popped up in the Marvel TV series. She also appeared in the Season 1 episode "Yes Men," where she helped Coulson and the gang track down an escaped prisoner from Asgard known as Lorelei. Her guest appearance was pretty well-received, and it's no surprise the show would want to bring back Sif for another round.
Agents of S.H.I.E.L.D. is currently on hiatus to make room for Agent Carter in the midseason schedule. However, that show will wrap up this month and S.H.I.E.L.D. will officially return in March. The Lady Sif-based episode will be the second episode following the show's reappearance, which is expected to hit the schedule on March 10. Interestingly, that's almost exactly one year from Alexander's last guest appearance.
There are some basic spoilers in the following paragraph if you aren't caught up on Agents Of S.H.I.E.L.D.. Everyone still here? Good, let's talk about that winter finale.
I think most fans should be itching for the Agents of S.H.I.E.L.D. return. As entertaining as the period drama Agent Carter has been, S.H.I.E.L.D. last ended on a pretty big note, with Skye gaining earthquake powers and revealing herself as an Inhuman. Raina was also revealed to be an inhuman, but Skye is understandably more of the focus, and the ABC drama has already given us a quick look at what Skye will be dealing with when the show returns. In the past, big cameos from characters in the Marvel Cinematic Universe have been a huge deal, but S.H.I.E.L.D. has gotten more interesting in its own right, and while we are stoked to see Lady Sif appear in the lineup, the Inhumans plotline has our full attention right now. There's plenty of big stuff the show is gearing up for, and you can catch it when Agents Of S.H.I.E.L.D. hits ABC's schedule on Tuesday, March 3 at 9 p.m. ET. You can also find out when the rest of your favorites are returning with our midseason premiere schedule.
Amazing Race & Top Chef superfan with a pinch of Disney fairy dust thrown in. If you've created a rom-com I've probably watched it.
Your Daily Blend of Entertainment News
Thank you for signing up to CinemaBlend. You will receive a verification email shortly.
There was a problem. Please refresh the page and try again.