Agents Of S.H.I.E.L.D. Creators Discuss The Captain America: The Winter Soldier Game Changer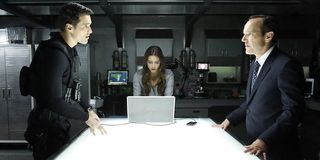 Those who've seen Captain America: The Winter Soldier likely realize that the events in the film indicate a major game-changer for Marvel's Agents of S.H.I.E.L.D.. If you haven't seen the latest Marvel feature, consider yourself spoiler-warned as it relates to the plot of the film. And if you're planning on watching this week's S.H.I.E.L.D., you might want to get to the theater before then. In the meantime, the series' executive producers have spoken up with some vague comments hinting at what the film's events will mean for the series. That includes "one major betrayal."
Captain America: The Winter Soldier spoilers ahead!
Ok, moving beyond the spoiler warning, those who've seen Winter Soldier know that the plot of the movie involved the reveal that the subversive organization Hydra had infiltrated S.H.I.E.L.D., compromising the entire organization to its core. I would assume that the series will aim to catch viewers up on -- at least -- the basics of that situation. Whether that means dropping major Winder Soldier spoilers on viewers as soon as Tuesday night, or only including the most basic need-to-know information, changes are a'coming for this series.
So how does this affect Agent Coulson and his team on Agents of S.H.I.E.L.D.? Pretty majorly, it seems. USA Today got the scoop from some of the executive producers and also included some clues about what's coming up, noting that "upcoming episodes feature at least one major betrayal, and what's left of Coulson's team is forced to deal on their own with the dismantling of their whole world as well as the new Hydra threat."
That actually sounds like a more detailed version of the description we shared for "Turn, Turn, Turn," a couple weeks ago, before we knew what Captain America: The Winter Soldier would reveal and how that would affect the series.
The obvious speculation was that Melinda May is the mentioned traitor. We know she's been reporting information to someone about Coulson and his team. But May being involved with Hydra may be too obvious an assumption, and I'm back to narrowing my eyes at Ward again. Looking at some of the people involved in Hydra in Winter Soldier (Brock Rumlow in particular) I can picture a Ward twist coming.
S.H.I.E.L.D. EP Maurissa Tancharoen says survival will be a huge part of the team's situation. "There is no more tapping into big S.H.I.E.L.D. through the holo-comm. The guns you have on the plane are the guns you have. They're basically left with the bare minimum."
A show about a group of skilled, resourceful people with limited support taking on massive and occasionally super powered big-bads each week? Who would watch that? Um, anyone who loved Buffy the Vampire Slayer and Angel? Ok, I may be getting overly optimistic here, but Tancharoen's words, added to Jed Whedon's comment -- "Now they really are a ragtag bunch scraping things together." -- actually have me hopeful that this Hydra game-changer will be a good thing for this series in terms of the format and direction of the show and what it means for Coulson and his people.
I've stuck with S.H.I.E.L.D. since the beginning. Granted it's only one season and not even a full one at that, but seeing other fans shift away from the series after it turned out not to be what they expected, I've remained hopeful that the show would find its footing. And it's begun to do that, slowly but surely with each episode. This big shift could not only prove to take the show in an even better direction, but possibly even bring fans back to the series. From what Tanchoroen implies the Hydra twist was always part of the plan for the drama, as she expressed hope that people who had mixed feelings about the ABC drama would "now understand it was all part of a big plan."
Let's hope it's a good plan. As I said, the show has continued to get better in its second half, but the idea of these agents working independently from their original organization and the fact that they're no longer fully stocked on seemingly limitless resources really has potential to make this series more interesting. They're existing in a reality where superpowers are real, and where Hydra exists and poses a threat. A bigger enemy beyond the ever-teased "Clairvoyant" could make for a thrilling and evolving arc for this series.
Here's the teaser USA Today included with their article.
Your Daily Blend of Entertainment News
Assistant Managing Editor
Kelly joined CinemaBlend as a freelance TV news writer in 2006 and went on to serve as the site's TV Editor before moving over to other roles on the site. At present, she's an Assistant Managing Editor who spends much of her time brainstorming and editing feature content on the site.