Agents Of S.H.I.E.L.D. Introducing Four New Characters For Season 2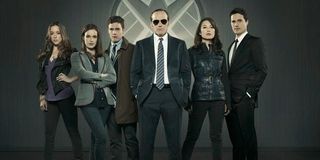 We can expect that the second season of Agents of S.H.I.E.L.D. will be quite different from its first season –and not just because the titular clandestine organization ended up being massively corrupt and overrun by HYDRA agents. In addition to that fact, we also expect a whole bunch of new characters to be introduced… and today at San Diego Comic-Con we got early word on the newbies who are coming aboard.
Marvel Studios Television held its presentation in the San Diego Convention Center's Ballroom 20 this afternoon, and during the Agents of S.H.I.E.L.D. portion – which came right after Agent Carter - we were made aware of four new characters that will be involved with the show in Season 2:
Isabelle Hartley, played by Lucy Lawless
At the start of the second season, Agent Director Phil Coulson is working hard to rebuild S.H.I.E.L.D. from the ground up, and part of that means recruitment. Enter Isabelle Hartley, who will be played by genre legend Lucy Lawless. According to Jeph Loeb, the head of Marvel Television, the character is a S.H.I.E.L.D. veteran who has some handy skills with a knife. While I can't seem to find any information about a direct comic book character equivalent, it's worth noting that Victoria Hand (played by Saffron Burrows in Agents of S.H.I.E.L.D. Season 1) at one point had a romantic relationship with a female agent named Isabelle. Is it possible this is the same person?
Lance Hunter, played by Nick Blood
While Isabelle Hartley seems to be a character that Coulson will be able to trust, it's likely that we won't be able to say the same thing about Lance Hunter, the new character played by newcomer Nick Blood. Rather than being a former agent of S.H.I.E.L.D., Hunter is actually a mercenary who Coulson reaches out to due to in order to try and help rebuild the organization. In the comics, Hunter is actually the leader of the Special Tactical Reserve for International Key Emergencies, or S.T.R.I.K.E – a British intelligence agency.
Daniel Whitehall a.k.a Kraken, played by Reed Diamond
Stepping away from the hero side of things, we also have this new villain, Daniel Whitehall a.k.a. Kraken. Played by Joss Whedon veteran Reed Diamond (Dollhouse, Much Ado About Nothing, Whitehall is a leader of HYDRA who will serve as the big bad of Agents of S.H.I.E.L.D.'s Season 2. It's unclear at this point how the character will be portrayed, but he is one seriously bad dude in the comics and possesses a very special helmet that produces a special kind of magical armor for its wearer.
Barbara Morse a.k.a. Mockingbird, played by ?
The final new character announcement of the Agents of S.H.I.E.L.D. panel came at the very end and was revealed in a special Comic-Con video starring Patton Oswalt (who played both Billy and Eric Koenig in the first season). In the video, it was confirmed that S.H.I.E.L.D. agent Barbara Morse a.k.a. Mockingbird will be yet other comic book character who will be joining Agents of S.H.I.E.L.D. in Season 2. Because the video featured Oswalt in character, we didn't get to hear the name of the actress who will be playing her – but it's entirely possible that Marvel hasn't actually cast the part yet.
Pretty cool news, huh? Are you happy with the character and actor choices that Agents of S.H.I.E.L.D. is making in its second season? Let us know what you think in the comments below.
Assistant Managing Editor
NJ native who calls LA home and lives in a Dreamatorium. A decade-plus CinemaBlend veteran who is endlessly enthusiastic about the career he's dreamt of since seventh grade.
Your Daily Blend of Entertainment News
Thank you for signing up to CinemaBlend. You will receive a verification email shortly.
There was a problem. Please refresh the page and try again.