Aimee Teegarden To Star In The CW Pilot The Selection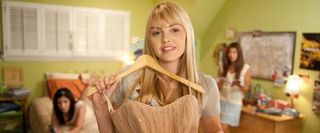 Suzanne Collins' The Hunger Games is everywhere. Naturally, because it has spawned a movie and a bunch of birthday party products and whatever else we can think of, it was bound to also spawn a wave of copy-cat sort of books featuring an angry but somewhat strong female protagonist dealing with futuristic love and war themes, like Kristin Cashore's Graceling or the upcoming Kiera Cass book The Selection. Now, to capitalize on the similarly-themed endeavors, The CW may bring one to television.
Earlier this month TV Blend noted The CW had picked up a pilot order for The Selection based on the aforementioned book, which actually won't even hit the market until April 24. While it is really difficult to understand how a network would pull together a series from an author with only one self-published title and a book that has not yet even hit the public, it seems The CW really wants this project to go somewhere and has even hired a pretty big name to lead the cast.
Friday Night Lights and Prom actress Aimee Teegarden is set to star in The CW's The Selection. According to TV Line, this means Teegarden will play a young lady living 300 years from now who gets picked in a lottery drawing to enter a competition to become the queen of a country suffering from years of war and strife. While this is not the exact storyline for The Hunger Games, The Selection will be a chance for The CW, Teegarden, and Angel writers Elizabeth Craft and Sarah Fain to earn viewers from the same fan base. So, as long as the book does not fall in the range beyond absolute crap, I expect this one to get a bit of attention come fall.
Your Daily Blend of Entertainment News
Your Daily Blend of Entertainment News
Thank you for signing up to CinemaBlend. You will receive a verification email shortly.
There was a problem. Please refresh the page and try again.