Alaska: The Last Frontier Features Jewel's Family, Premieres Tonight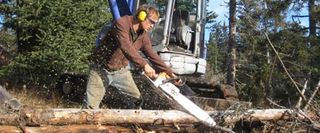 Singer Jewel and her husband, Ty Murray, make a great team, a partnership that is supplemented by good familial support. In a Christmas special airing during the holiday season last year on HGTV, Jewel and her husband exchanged handmade gifts with Murray's parents, Joy and Butch Murray. Turns out Murray's side of the family aren't the only ones with a little bit of reality flair.
Discovery Channel's interest in Jewel's extended family has led them to create Alaska: The Last Frontier, following the 37-year-old singer's father, Atz Kilcher, and his out-of-the-ordinary lifestyle. According to CBS News, Kilcher lives in Alaska on 638 acres of land. His home is located in Homer, home of a small fishing community that also happens to be found in the middle of nowhere. The family lives without running water.
Since the homestead is so isolated, it is no wonder Alaska: The Last Frontier, will follow the Kilchers as they begin to get ready for unbearably cold winter months. Sounds pretty intense.
If you were hoping to get to see Kilcher's daughter on the show, Jewel is not expected to appear on the program. Instead, you can catch her on her fair share of reality reruns, including that special for HGTV and as a judge on Bravo's Platinum Hit.
Alaska: The Last Frontier premieres tonight on the Discovery Channel at 10 p.m. You can check out the preview below.
Your Daily Blend of Entertainment News
Thank you for signing up to CinemaBlend. You will receive a verification email shortly.
There was a problem. Please refresh the page and try again.