The Amazing Race Season 19 Preview: Meet the Contestants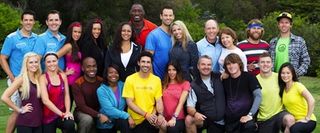 This season of The Amazing Race (which just took home the Emmy for best Reality Competition Show again) is the nineteenth in its ten-year history, and the third that I will be tackling for recapping purposes. Eleven teams of two will be racing around the world for a $1 million prize starting Sunday night, and this will include visits to several places the show has never gone before, such as Denmark, Malawi, Indonesia and Belgium. There will also be at least two new twists in the game, including the show's first-ever double-elimination, as well as a new wrinkle called a "Hazard", which is a penalty that one team will have to incur right at the starting line and that they will have to complete before checking in at the Pit Stop.
Here are this season's racers:
Ethan Zohn and Jenna Morasca - Survivor diehards will remember these two. Ethan is a former soccer player who won Season Three (Survivor: Africa), and Jenna is a actress and former swimsuit model who won Season Six (Survivor: Amazon). Ethan is now a 37-year-old "change maker", whatever that is, and Jenna is now a 30-year-old TV host and student. I remember Boston Rob and Amber getting recognized in several foreign countries during their stint on TAR, I wonder if this couple will get the same treatment.
Laurence and Zac Sunderland - Zac gained fame in 2009 by becoming the first person under the age of 18 to sail solo around the world, a record that Zac's younger sister Abby attempted to break last year but was unable to complete. Now 19, Zac and his father Laurence, a 48-year-old yacht manager from Thousand Oaks, California, will be this season's only parent/child team. They seem to be very fit, and that could serve them well.
Jeremy Cline and Sandy Draghi - This season's other "dating" couple besides Ethan and Jenna. Jeremy is a 35-year-old commercial real estate broker from Alamo, California, and Sandy is a 33-year-old nurse practitioner from Dublin, California. I'm hoping that because they're in their 30's, they've been together awhile and therefore will not have a penchant for constant bickering like younger dating couples do.
Justin and Jennifer Young - Apart from Zac and Laurence, Justin and Jennifer are this season's only team that are blood relatives. Justin is a 31-year-old doctor, and his sister Jennifer is a 26-year-old special ed teacher. They both hail from Stone Mountain, Georgia. He looks like a confident guy, and he says that endurance is a skill essential to making it through residency. As for Jennifer, I hope she's in better physical shape than she looks from her photo. She lists her hobbies as "reading, napping and watching TV", which doesn't exactly strike me as someone with a lot of stamina.
Ernie Halvorsen and Cindy Chiang - They are an engaged interracial couple from Chicago. He is a 29-year-old project manager, and she is a 30-year-old brand manager of Asian descent. (She looks a lot like Lucy Liu, to be honest!) Both of them list athletic activities as their hobbies, so I'm not worried about their fitness. Their ultimate goal is to become entrepreneurs together regardless of whether they win the race or not, and hope that all of the traveling will help them cement their bond for good before the exchange their vows.
Bill and Cathi Alden - There's almost always one couple each season that can be described as being more "mature" than the others, and Bill and Cathi are it this season. Hailing from Albany, Oregon, Bill is 63 and a rancher, and Cathi is a 62-year-old retired high school principal and college instructor. They are listed as "grandparents" though it didn't say in their bios how many they have, though they do have three kids. Bill says he's hoping for a "golf challenge", and there's been, like, two of those in seventeen seasons? Whatever, I'm sure they're likeable, but older teams tend to not survive the first half of the race.
Andy Finch and Tommy Czeschin - These two are best friends, and both are professional snowboarders. Andy is 30 and hails from Truckee, California, whereas 32-year-old Tommy resides in nearby Crowley Lake (at least, I think it's nearby). Being extreme sports enthusiasts, they will probably tackle all of the physical challenges with gusto, and they will probably also be the coolest team to watch. I hope they do well.
Marcus and Amani Pollard - Marcus and Amani are a married couple from Pine Mountain, Georgia. Football fans may know Marcus, who was signed as an undrafted free agent by the Indianapolis Colts in 1995 as a tight end. He played ten seasons there, along with five additional seasons with Seattle, Detroit and Atlanta. Now 39 and retired with 40 career touchdowns to his credit, he is racing with his wife Amani, a 36-year-old business owner. Many ex-ballers fall out of shape once they hit retirement, but it doesn't look like Marcus is one of those. Now a football coach himself, look for Marcus and his better half to last a good long while.
Kaylani Paliotta and Lisa Tilley - Both ladies are Las Vegas cocktail waitresses and showgirls. 33-year-old Kaylani is also a trained dancer and a mother to a young girl, Seneca, and her best friend Lisa is 32 years old and looks a lot like Kim Kardashian. If you remember, after a sixteen-season drought, all-girl teams have won the last two races, and there are two teams that have a chance to continue that trend. On paper, I would give Kaylani and Lisa the lesser chance of the two to make it a three-peat.
Liz and Marie Canavan - Speaking of… Liz and Marie are 24-year-old identical twin sisters from Deerfield, Illinois. Liz is a marketing assistant, and Marie lists her occupation as "soul searching", which sounds to me like a Zen way of saying "unemployed". They look sweet, and I hope they're the type of twin sisters that get along. What I hope that they are NOT is the team that just has to prove that "blondes aren't dumb", because most teams that set out to prove that ultimately fail. Really, do people still see blondes as "dumb" these days? That just seems so 70's. But I digress… they are very cute and athletic-looking, and if they've got the brains to match, they could be contenders.
Ron Zeitz and Bill Smith - TAR likes to make its teams as diverse as possible, spanning all ages, races, backgrounds and sexual orientations. There's almost always one team where one or both members are gay, and Ron and Bill fit that, er, bill this season. They are domestic partners, both work as flight attendants, and they hail from Laguna Niguel, California. Ron is 44 and looks to be the fitter of the two, whereas 49-year-old Bill is a self-professed travel-holic. Given their professions, they should know the ins and outs of air travel like nobody's business, and if they're like previous gay couples, we as viewers will either love them or loathe them.
So that's it. Eleven couples, several continents, thousands and thousands of miles, and Phil Keoghan's awesome cocked eyebrows. The fun all starts Sunday night!
Your Daily Blend of Entertainment News
Thank you for signing up to CinemaBlend. You will receive a verification email shortly.
There was a problem. Please refresh the page and try again.