American Dad 2013 Comic-Con Panel Live Blog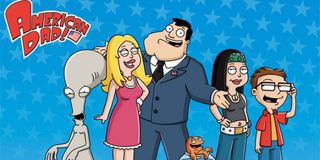 And brining up the rear for Fox's animation domination is the American Dad panel. The comedy is back at SDCC this year with an exclusive look at the new season and a dais that includes voice talent Wendy Schaal, Rachael MacFarlane, Scott Grimes and Dee Bradley Baker as well as writer Jordan Blum, creator/executive producer Mike Barker, creator/executive producer Matt Weitzman and executive producer Steve Callaghan. There will also be the world premiere of a song from the upcoming Christmas episode marking the return of Krampus!
2:30 Michael Schneider is back to moderate this panel and quickly brings out the cast and crew before throwing to a clip reel. Back soon! The footage was pretty funny and included a mix of scenes featuring all the main characters in a variety of unfortunate situations. Steve is stuck at the kid's table with not-Batman, Hayley has no life-skills beyond prostituion, Francine is fighting with everyone. Stan has a run in with a rake and his balls. And Roger, well, he's in a different outfit in every scene.
2:40 They open with discussing the upcoming move, with the upcoming season set to air on Fox as usual before the show moves to TBS. This way they can do the Tyler Perry crossover they always wanted to do. After that little bit of awkwardness, Schneider asks the panel about some upcoming episodes like Steve and Snot going on a road-trip (with some different looking animation) and guest star Zooey Deschanel. There's another one coming where Hayley goes on a big bender and MacFarlane made sure to get drunk before recording cause she's a terrible actress. Roger will see the future and get taken advantage of by the rest of the Smiths.
2:46 Another exciting ep features Steve and Snot cloning dates for the prom Weird Science-style so they can finally lose their virginity but when the clones come out as babies, the mood shifts. Stan will spend one taking the pill and the increase in estrogen makes him transform werewolf style. And finally, the Christmas episode that was put on hold last year because of sensitive world events. Sorry, I can't remember which tragedy, there are sadly too many.
2:49 Rachael is also guest starring on an episode of Family Guy as Quagmire's date who's actually grosser and more depraved than him. And since Seth MacFarlane voices Quagmire, it has an added level of incestuous nastiness. Schaal seems like the most timid actor, not originally that proficient in all the dirty jokes but has learned a lot from hanging out with the rest of the cast. It doesn't show. She's very sweet and soft-spoken.
2:54 They asks Baker how he comes up with all the weird voices and sounds, saying that it's almost inhuman. He then gives us a taste of what it sounds like for a parasite to crawl out of a body. It's gross.Soon, conversation steers to the guest stars this season with celebs as different as Alison Brie and Zooey Deschanel doing spots. I kid.
2:58 The audience is up. First question comes with a request for a definitive answer. How many talking animals are in American Dad and Family Guy, and what are the rules for who can and can't be understood. The simple (but definitive) answer is... that's a tough question. Klaus is understood by all. Favorite songs? Daddy's Gone seems like a favorite across the panel. And they also mention that the Krampus song might just overtake it, we'll have to wait and see. You longer than me since they are showing some footage from that ep at the end of the panel.
3:02 A young kid asks who came up with the idea for an alien. Barker says that was all Seth, who also came up with the Paul Lind like voice. He's a great character because he's a one man (alien) revolving door of guest spots. Any more merch on the way? They are certainly trying, one idea is a Roger Mr. Potato Man concept where you can swap out the costumes. Ricky Spanish!
3:05 Once again, a fan asks a question that baffles the panel. He wants to bring back a Roger character that none of them seem to remember but they will go back and take a look. The character was a muscled up hockey player. A way too young for the show kid asks the next one, wondering what the major similarities are between the two MacFarlane shows. They both have the family unit and similar animation but Callaghan thinks they're quite different, all the way down to the writing process. One thing that helped them find their own voice was dropping the cutaways after the first few episodes.
3:08 What's Schaal's favorite dirty Francine line and can she say it for the crowd? She's not that comfortable in the arena, even just improving a dirty line. Instead they compromise by having her do one about being able to kill a two litre of cola. Is there anything about Francine's checkered past that really grossed her out? The number of men she's slept with is one, not killing her roommate though. And that wraps it! Merry Krampus.
Your Daily Blend of Entertainment News
Thank you for signing up to CinemaBlend. You will receive a verification email shortly.
There was a problem. Please refresh the page and try again.