American Horror Story Is Getting A Companion Series That Involves O.J. Simpson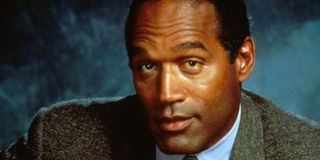 Ryan Murphy is a prolific person, and constantly has his hands in more than one TV project. He's also a pretty loyal guy, and if he finds a network or studio he likes, he will often continue to work with that network or studio. He's worked on multiple projects with HBO and FX, and now, Murphy's signing on for another TV series with the latter network. FX has picked up American Crime Story, a new show that will have similarities to American Horror Story in title and format.
Like American Horror Story, American Crime Story will be set up in a miniseries format, with new seasons following a separate storyline. FX is going straight-to-series with the project, and will produce 10 episodes of the drama. The show will be about crime, and more specifically, true crime. Screen Crush notes the new series will follow the famous murder trial of O.J. Simpson. Similar to AHS, Murphy's newest series will be subtitled and will go by the name American Crime Story: The People Vs. O.J. Simpson. It's kind of a mouthful, no?
Apparently, the true crime drama will follow a book written by Jeffrey Toobin called The Run of His Life: The People v. O.J. Simpson. Murphy is signed on to direct. He will also executive produce American Crime Story, along with Nina Jacobson, Brad Simpson, Brad Falchuk and Dante Di Loretto. Scott Alexander & Larry Karaszewski will write the project. A couple of years ago, the two writers set up a similar project at Fox. It didn't pan out then, but now that Ryan Murphy is on board, the event series is definitely moving forward.
The saga of O.J. Simpson's case was a lengthy one that lasted for months in 1995. According to FX, American Crime Story will look at the trial from the perspective of the lawyers and how the defense was able to introduce reasonable doubt into the minds of the jury. Murphy calls the trial "tragic" and "fascinating" and his own take on the series will include plenty of behind-the-scenes dealings and "maneuverings" from both the prosecution and the defense. We all know how the O.J. Simpson trial pans out, but most of us probably haven't read extensively into the machinations of the top-notch lawyers.
Murphy's a genre hopper. One second he'll be working on a comedy and the next he'll hop to a horrifying drama. Sometimes he'll put together TV movies and sometimes he will come up with miniseries ideas, but he's just as likely to board network projects with full 22-episode orders. He's all over the board with his work, but with the exception of The New Normal and a few others, this has mostly served him well. We'll have to wait and see how he does with the true crime genre.
I'm already mentally preparing myself for 2016, when Murphy inevitably competes against himself in all of the miniseries categories at the Golden Globes. We'll keep you posted as American Crime Story begins the process of casting and moving forward to series.
Your Daily Blend of Entertainment News
Reality TV fan with a pinch of Disney fairy dust thrown in. Theme park junkie. If you've created a rom-com I've probably watched it.