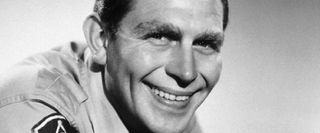 Known to many as Sheriff Andy Taylor and Attorney Ben Matlock, Andy Griffith's played numerous roles over the course of his career, which began in the 50's and stretched all the way to the last decade. It is with great sadness that we share the news that Griffith has passed away at the age of 86.
Entertainment Weekly shared the news this morning, which was confirmed by WITN.com, stating that Griffith died today in his home Roanoke Island, North Carolina. Griffith was born in North Carolina, and the state was also the setting for the fictional town of Mayberry, where The Andy Griffith Show took place. The series, which is arguably Griffith's greatest claim to fame, aired from Fall 1960 to Spring 1968, after which Griffith produced a number of spin-offs. The actor/director/producer's other claim to fame came decades later when he starred in ABC's Matlock, which aired from Fall 1968 to Spring 1992. Many will likely remember Griffith well for his dramatic courtroom scenes in the legal drama.
Griffith's work as an actor thinned out over the years, but among his more recent roles was the part of Old Joe in the 2007 Adrienne Shelly film Waitress, starring Keri Russell and Nathan Fillion. He also had a starring role in Marc Fienberg's film Play the Game. It's worth noting that the 2009 romcom also featured Clint Howard, brother to Ron Howard, who played Opie, Griffith's son in The Andy Griffith Show.
Griffith's contributions to television and the entertainment industry will not soon be forgotten, especially by those who will remember him well for his roles as Andy Taylor and Matlock. Our thoughts go out to his family in their time of loss.