Anthony Kiedis' Scar Tissue Moves From HBO To FX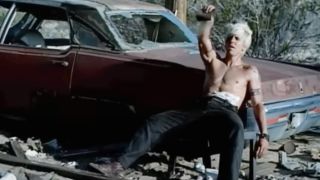 (Image credit: Warner Bros.)
We've been hearing about Anthony Kiedis' Scar Tissue project for over two years, ever since HBO picked it up and hired John Sayles to pen the project. There were obviously some problems. Either that, or HBO couldn't find a way to fit it into the network's schedule. The series must have some merit because FX has picked up where HBO left off, and will develop Scar Tissue through FX productions and Catapult 360.
If you missed the boat the first time around, Scar Tissue will be based on Kiedis' autobiography of the same name. Penned with Larry Sloman, the book follows Kiedis' early years watching his drug dealer father sell to famous celebrities. This was obviously not the most beneficial relationship a child could ever have. In the years ensuing, Kiedis tried drugs, got into drugs, and became addicted to drugs, before coming clean around the turn of the century. You may be surprised, but Scar Tissue is planned as a drama.
Entourage producers Marc Abrams and Mike Benson are involved with Catapult 360 and will executive produce Scar Tissue along with Kiedis and Jason Weinberg. THR is reporting Sayles is out this time around. The whole thing seems like it will follow the whole go big or go home'– 'there is no box' - initiative FX has been striving for of late. However, I'm not going to count my chickens until I can line them up and hack their heads off, sorry vegans. I've been disappointed before. Cinema Blend will keep you posted if any new details come to light.
Your Daily Blend of Entertainment News