Arrow Season 3, Episode 17 Watch: DCU Connections And Easter Eggs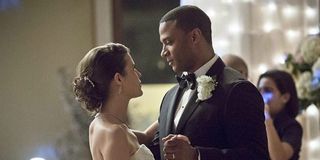 After his trip to "Nanda Parbat," Arrow took a few weeks off before turning down "The Offer" to become the next Ra's al Ghul. I'm sure that refusal won't have any repercussions. Now, the CW superhero series needs to kill some time as the consequences of Oliver's choice escalate towards an inevitable second showdown with the Demon's Head and there's no better way to kill time than with the "Suicide Squad." The last time Task Force X was on a mission, the episode was full of easter eggs and "Suicidal Tendencies" is similarly chock full of DCU connections...
Suicide Mission
The episode opened at the Diggle and Harbinger, sorry, Michaels wedding and I'd feel sorry for anyone who decided to crash that party. The guests were a veritable who's who of masks, including the officiant. But more on them later, this section is about the Bride and Groom and the Suicide Squad mission that interrupts their honeymoon. There's a hostage situation in Kaznia involving U.S. Senator Joseph Cray and A.R.G.U.S. wants Task Force X to go in and rescue him.
Too bad Mockingbird (aka Agent Waller) doesn't know that Cray is actually behind the whole thing in an attempt to look heroic and gain political points when he 'saves' the day. The squad is also considerably smaller this time around without Bronze Tiger or Shrapnel but the series wisely brought back Cupid as a new recruit. She was great in "Draw Back Your Bow," which might still be my favorite episode of the third season. And it wouldn't be Task Force X without Deadshot. The mercenary was even given this week's flashbacks, which included another mention of H.I.V.E., before he perished in the present storyline. Of course, he won't be remembered as a hero since the government used Bethany Snow and Channel 52 to lie to the people.
Domestic Disturbance
Back in Starling City, Oliver is dealing with the fallout from saying no to becoming the next Ra's al Ghul. In order to force our hero's hand into accepting the offer, The League of Assassins (led by Maseo) are busy killing criminals in order to sully the Arrow's recently much improved reputation. Their plan works quite well since it inspires Ray to try and bring the vigilante to justice as one of his first acts as The Atom. The supersuit looks great in action (especially during the showdown at Meltzer Power Plant) and I'm very much looking forward to his spin-off with Firestorm, Captain Cold, Heat Wave and Sara's Black Canary. Speaking of the Atom and the Canary, I also enjoyed the scene between the two in "Suicidal Tendencies" with Ray calling her out on being a mask as well as namedropping Wildcat. Of course, we know that Nyssa is now the one training her and likely responsible for the cast Laurel is rocking. It was also cute for the show to mention Ray's X-ray vision since that was a big part of Brandon Routh's former superhero stint.
Arrow continues with Episode 18, "Public Enemy," on Wednesday, March 18 at 8:00 p.m. ET on The CW. Created by Marc Guggenheim, Andrew Kreisberg and Greg Berlanti, the DC Comics inspired series stars Stephen Amell, Katie Cassidy, David Ramsey, Emily Bett Rickards, Willa Holland, Colton Haynes, Paul Blackthorne and John Barrowman.
Your Daily Blend of Entertainment News
Thank you for signing up to CinemaBlend. You will receive a verification email shortly.
There was a problem. Please refresh the page and try again.