Arrow And The Flash Are Getting A Combo Spinoff, Get The Details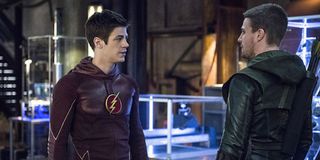 The CW has done an impressive job of building its own DC TV universe over the past three TV seasons. Through Arrow and The Flash, dozens of established heroes and villains have been introduced and have interacted with one other through alliances or battles, giving comic book fans and general viewers alike exciting DC Comics adventures on the small screen. Now this world looks to be expanding further. There is a possible spinoff in development that will feature characters from both shows joining together in what's being described as a "superhero team-up show." Included in the new project will be some new and some familiar characters.
Among this lineup will also be three DC Comics superheroes that have never appeared in a TV series before (presumably they mean live-action). While this project is not part of the CW's current pilot cycle, it could have the potential to go straight-to-series. If that happens, there's a possibility it could air around midseason next year.
Warning: potential spoilers for Arrow and The Flash are ahead!
According to Deadline, this project will be created by Arrow creators Greg Berlanti, Andrew Kresiberg and Marc Guggenheim. It will reportedly star Wentworth Miller as Leonard Snart/Captain Cold, Brandon Routh as Ray Palmer/The Atom and Victor Garber as Dr. Martin Stein. Caity Lotz is also expected to appear, although because her character Sara Lance, a.k.a. the first Black Canary, was killed in the Arrow Season 3 premiere, it isn't clear whether she'll be playing a revived Sara or a brand new character. If it's the former, then this is a huge spoiler for the rest of Arrow this season.
While there are more questions than answers at this point (like what would bring them together in the first place), the featured lineup they give is an interesting, if unconventional, one. Ray Palmer finally put on his A.T.O.M. suit in the Arrow episode "Nanda Parbat," so he's on his way to becoming a full-fledged superhero. It's odd that Captain Cold, a career criminal who nearly killed Flash, would team up with these heroes, although the character did recently become a member of the Justice League in the comics, so it isn't entirely unprecedented. Then there's Martin Stein, who constitutes one-half of Firestorm, the other half being Ronnie Raymond, played by Robbie Amell. The problem is Amell is listed nowhere in this article, so would Stein be serving this "team" in an intellectual capacity or is he somehow able to become Firestorm without Ronnie being around? He's useful either way, but it would be nice to know.
If I had to wager a guess, this almost sounds like it could be The CW's response to ABC's Agent Carter, i.e. a limited series. If The CW decides to put Arrow and The Flash on extended hiatuses after their midseason finales, this series could air in the meantime to give the audience new material rather than just be stuck with reruns. On the other hand, if it were to become a full-fledged series, fans would be getting diverse characters working together on a regular basis, so that's an even better prospect. Either way, this is sure to be a game changer for this DC TV universe if it becomes a reality.
Your Daily Blend of Entertainment News
Connoisseur of Marvel, DC, Star Wars, John Wick, MonsterVerse and Doctor Who lore. He's aware he looks like Harry Potter and Clark Kent.