Arrow Season 4: First Look At Lady Cop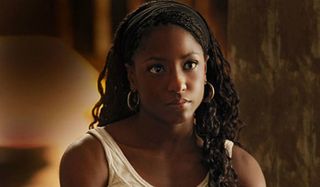 With the fourth season of Arrow only a month away, fans have plenty to get excited about. Stephen Amell premiered his new Green Arrow persona at this year's San Diego Comic- Con, and yesterday's first official Season 4 trailer gave us a well-rounded look at the show's ever-growing ensemble. Now, a new photo has hit the internet showcasing a new addition to the cast: Rutina Wesley (True Blood) as Liza Warner AKA Lady Cop.
In an image released via director Lexi Alexander's Twitter account, Wesley appears in full Lady Cop garb, standing like an all-around badass outside the driver side of a police S.W.A.T van. Despite her diminutive stature, her outfit gives her an imposing, tactical appearance; it invokes the classic 1980's film Robocop, in that things have likely gotten so out of hand that the police force has become militarized. This makes a great deal of sense, considering things would have to get pretty bad to bring Oliver Queen out of retirement and back to his old vigilante ways. Perhaps the most notable takeaway from the photo is the patch on her tactical vest, which reads "Star City," as opposed to the show's traditional "Starling City" – bringing the show more in line with the comic book origins.
Wesley joins an already robust, and diverse ensemble on Arrow. While the show has always primarily focused on the adventures of Oliver Queen, over the last three seasons it has endeavored to expand, and find a balance between all of its characters. A central theme of the last season was even the notion that Team Arrow would willingly carry on Oliver's mission if he ever met an untimely demise. With this in mind, Lady Cop represents the next in a long line of strong female characters the show has produced. From Nyssa al Ghul, to the Lance sister, and even Felicity Smoak, the show has continually produced female characters that challenge and support Oliver, while still finding time to kick-ass in their own respective ways – we can likely expect no less from Lady Cop when she premieres this season.
Lady Cop first premiered in DC comics all the way back in 1975. A consummate professional, she is a skilled markswoman, detective, and possesses an eidetic memory, making her an important ally for Green Arrow. Considering the events of the last season of Arrow, and the utter betrayal felt by Captain Lance, Oliver Queen will likely have to look for new allies in the police department to assist him in his vigilante ways. No longer able to rely on support from the Star City Police leadership, Lady Cop will no doubt prove to be an essential asset as the Green Arrow earns the city's trust when The Arrow (allegedly Roy Harper) died.
Arrow returns to The CW on Wednesday, October 7.
Originally from Connecticut, Conner grew up in San Diego and graduated from Chapman University in 2014. He now lives in Los Angeles working in and around the entertainment industry and can mostly be found binging horror movies and chugging coffee.
Your Daily Blend of Entertainment News
Thank you for signing up to CinemaBlend. You will receive a verification email shortly.
There was a problem. Please refresh the page and try again.