Arya Will Look Very Different In Game Of Thrones Season 5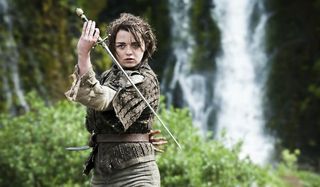 When we last saw Arya Stark in the Season 4 finale of Game of Thrones, she was on a ship headed towards Braavos in her typical rugged and practical get up. But, a new exclusive image shows Arya's transformation for Season 5, and it's quite a different look than what we're used to. Check it out.
Arya's character has gone through many transformations in the show, not only in the physical sense as actress Maisie Williams is growing up right before our eyes, but also a change in clothing, strength, smarts, and skill. She's forever adapting to her environment, learning the skills to survive and stay hidden. And even though her outfits have changed throughout the season, they always remain very practical and masculine, as opposed to the other ladies on the show.
Arya's costumes always make sense within her storyline. It is no surprise, considering the adventure-driven character that Arya happens to be, and the fact that she always hated dresses. But now, this new outfit for Season 5 is bringing about an entirely different side of Arya. A fitted jacket, skirt, and well-kept hair. Who is this girl? Arya, are you in there?
The outfit in the Entertainment Weekly exclusive photo was designed by costume designer Michele Clapton, who has admitted to ever-so-subtly changing Arya's costume throughout the years. This new costume was created to reflect Arya's location change, and expose her as a young woman. This makes sense, considering Arya's knack for knowing how to quietly blend, so if skirts and well-kept hair is what the next chapter in her journey holds, Arya will transform to play the part. I hope her her sword play won't be too negatively affected by that tight shouldered-jacket, though.
While Arya is growing up to be a total badass and lady you wouldn't want to mess with, she is becoming a woman. And that is a life change in itself. So while I wish I could watch Arya and Needle take on the Seven Kingdoms as the little tomboy we've all grown to love, I trust that her decision to move towards a more feminine route is warranted. But still, that first time we see Arya dressed like this, clean face and pretty hair, it's going to be a shocker, that's for sure. Apparently, when Maisie Williams stepped out in her new look, the crew didn't even recognize her. She also told the outlet:
Williams said it was important to move forward though, and especially to get rid of those clothes that Arya had worn through so much tragedy.
The outfit change will take a bit of getting used to, but I'm excited to see why and how it comes about. The premiere of Game of Thrones Season 5 has not been announced yet, but you can check out our midseason TV premiere schedule for updates.
Your Daily Blend of Entertainment News
Thank you for signing up to CinemaBlend. You will receive a verification email shortly.
There was a problem. Please refresh the page and try again.