Bachelor Winner Emily Maynard Rumored To Be Next Bachelorette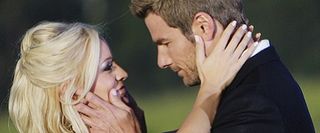 It's possible that Southern belle Emily Maynard might just be giving the search for love in front of a television audience a second try. Maynard broke off her engagement to The Bachelor's Brad Womack last summer after winning his heart on the show, but apparently didn't learn her lesson about finding romance on a reality series.
Sources for People let slip the rumor that Maynard has agreed to head up The Bachelorette in its next season and give love another try. Apparently the show wants her so bad that they agreed to move production to her hometown of Charlotte, NC so that the 25 year old mom won't have to be away from her daughter during filming.
But there's more to the casting rumors. Apparently former Bachelorette contestant Bentley Williams wants to compete for Maynard's hand. Williams humiliated Ashley Hebert when she was in charge of handing out roses by stating that he wished Emily Maynard was the one he was competing for and calling Hebert "an ugly duckling". If the casting rumors are true, we'll have to wait and see whether Maynard finds Williams' devotion to her endearing or his rude treatment of Hebert in the process less than attractive. I know it's the latter for me.
ABC hasn't commented or responded to the casting rumors yet, so we'll have to wait to find out if Maynard really is going to give reality show dating another round, or if she's going to keep her love life a little more quiet in the future.
Your Daily Blend of Entertainment News
Thank you for signing up to CinemaBlend. You will receive a verification email shortly.
There was a problem. Please refresh the page and try again.