Bad Teacher Review: CBS's New Comedy Is A Solid B+ With Potential For Extra Credit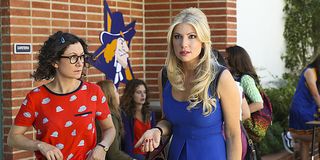 Taking over for The Crazy Ones as the lone single-camera comedy on CBS' Thursday night line-up is Hilary Winston's small screen take on the 2011 movie Bad Teacher. Based on -- but not a sequel to -- the movie that starred Cameron Diaz, CBS's new comedy gets off to a solid start with potential to be a great new series, thanks in part to a well-rounded cast, led by Ari Graynor as the titular "bad teacher."
If you're familiar with the movie on which Bad Teacher is based, then you know how this story begins, more or less. Graynor plays Meredith, a recently divorced former trophy wife who's desperate to find her way back to the luxurious lifestyle to which she's accustomed. In her efforts to seek out a new husband, she fakes her way into a teaching position at her friend's stepdaughter's middle school, where kids with wealthy, single dads are aplenty. With her love life as her main priority, Meredith relies on her tentative alliance with the adorable, brainy and overly nice Irene (Sara Gilbert) and friendly gym teacher Joel (Ryan Hansen) to further the charade and fool her boss Carl (David Alan Grier). Working against her is Ginny Taylor-Clapp (Kristin Davis), the overachieving teacher who sees Meredith for what she really is and also probably feels at least a little bit threatened by her.
As mentioned, this isn't a sequel to the film by the same name, nor is there much of a tie-in beyond the concept, but the structure is similar, minus the Justin Timberlake substitute teacher character who catches the bad teacher's eye. So far, Meredith's attention doesn't land on any one man, though there does seem to be a guy-of-the-week pattern developing in the first few episodes, and there's always the chance -- or likelihood, really -- that a hot substitute will show up sooner or later. The fact that the series doesn't seem to push any obvious long-term love interest in our faces, beyond the potential for Meredith to click with Hansen's Joel (the Jason Segel-character of this story) is actually a relief.. The emphasis on the show remains firmly on Meredith's efforts to do as little as possible as a teacher, while trying desperately to find a husband.
Playing a beautiful, greedy and self-absorbed but not entirely unlikable character, Graynor nails it. For a role like this, it's key that she be funny and kind of ridiculous without being so shallow that there's nothing to like about her. In that respect, the series seems to know exactly where the line is, as does Graynor, who does occasionally demonstrate a softer side without sacrificing much of her edge in the process. That's part of the reason Bad Teacher could work out really well as a TV series, as there's potential for a slow evolution of this "bad teacher," who stands as good a chance of being influenced by her co-workers as they might be by her.
If there's one criticism worth mentioning, it's that the humor could stand to be a little bit sharper. As it stands, Bad Teacher delivers more smiles than it does laughs. But smiles are a good thing, as this comedy is on the right track in terms of the tone of its humor. The jokes work at about a B/B+ with potential for A material. Part of that may be due to Bad Teacher not utilizing the comedic abilities of its supporting cast to its full potential. Kristin Davis, David Alan Grier, Sara Gilbert and Ryan Hansen have all demonstrated how funny they are in previous roles, and while they play their parts well here, there's more to mine from each of them, I'm certain. This is something time and character development may solve on its own. So hopefully Bad Teacher's given some time to settle in, because this promising series could prove to be one of CBS' better half-hour offerings, particularly for those of us who prefer single-camera comedies, without the built-in laughter.

Bad Teacher premieres Thursday, April 24 at 9:30 p.m. ET on CBS.
Your Daily Blend of Entertainment News
Assistant Managing Editor
Kelly joined CinemaBlend as a freelance TV news writer in 2006 and went on to serve as the site's TV Editor before moving over to other roles on the site. At present, she's an Assistant Managing Editor who spends much of her time brainstorming and editing feature content on the site.