Beavis And Butt-Head Creator Mike Judge Interviewed, And He Even Does The Voices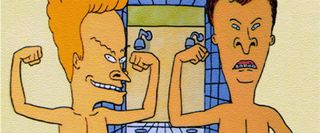 It's been a while since our favorite slacker pair sat on their couch and ripped MTV music videos apart for a half-hour every week on their self-titled show Beavis and Butt-Head. Of course, we were also lucky enough to get a feature film starring the two called Beavis and Butt-Head Do America in order to bridge the gap but even that film came out 15 years ago. Yes, it's been 15 years since Mike Judge last worked with the two characters that made him the successful filmmaker he is today.
The show was so widely popular because it was able to do that tricky thing, which is tap right into the cultural zeitgeist and ride the wave. MTV and music videos were as big as ever and that's when these two satiric representations of the Music Television Channel's core audience stepped on the scene and added their hilarious commentary on top of the often ridiculous early 90s music videos. However, this was also a very influential period in American music, with the emergence of Grunge and Alternative Rock and B&B's slacker/stoner/anti-commercialism stance was also perfectly in sync with that emerging culture.
MTV has already released a few promo videos for the quickly approaching premiere date (which you can watch as well as read Kelly's thoughts on the reboot here (opens in new tab)) but this interview by The Wall Street Journal's SpeakEasy Blog (opens in new tab) with creator-writer-actor-producer-director Mike Judge offers another unique look at both the upcoming shows as well as a brief retrospective on how the show originated. You also get to see a very rare occurrence - Mike Judge actually performing a few of the memorable voices, a request he is notorious for turning down. As he says in the interview, he feels that while cool, it takes away some of the magic. I tend to agree... but it is cool.
Beavis and Butt-Head is set to return October 27th at 10/9c on MTV. It was created, written and largely voiced by the super talented Mike Judge.
Your Daily Blend of Entertainment News
Thank you for signing up to CinemaBlend. You will receive a verification email shortly.
There was a problem. Please refresh the page and try again.