Benedict Cumberbatch Says His Comments About CBS' Elementary Were Misquoted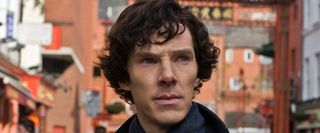 In an interview with Shortlist earlier this week, Sherlock star Benedict Cumberbatch was asked for his thoughts on CBS' suspiciously similar project, Elementary. The British actor was candid but mostly diplomatic, saying that he was "cynical" about the show, and that Elementary star Jonny Lee Miller had asked for his blessing for taking the role. Now, however, Cumberbatch says that he was misquoted.
The problem comes during the Shortlist interview when Cumberbatch is quoted as saying:
Cumberbatch reached out to THR to clarify his remarks, saying that he was misquoted. Here's his full statement:
It's kind of hard to determine exactly what's happening here. Is Cumberbatch claiming that the Shortlist outright fabricated the quote? Calling it a "misquote" seems to suggest the former, but that seems to be just asking for the Shortlist interview to pop out a copy of his recording of the interview to disprove the "misquote" accusation. It seems more likely that Cumberbatch has stepped in a hornet's nest he didn't intend to and is simply trying to clarify and offer context to his original remarks. If that's the case, it seems inaccurate to call the original interview a misquote. Who knows, maybe he'll issue a new clarification to clarify his first clarification. I love show business.
CBS' Elementary stars Jonny Lee Miller as a modern-day Sherlock Holmes and Lucy Liu as the newly female Joan Watson. However, the whole "modern Sherlock" has already been done, brilliantly, by the British Sherlock, created by Doctor Who boss Steven Moffat and Mark Gatiss, and starring Cumberbatch and Martin Freeman. CBS' version has one hell of a bar to clear.
Elementary is set to premiere on CBS this September 27th. A third season of Sherlock is also purportedly in the works, although there is no official premiere date set.
Your Daily Blend of Entertainment News