The Best Joke From The Simpsons, According To Writer Andrew Kreisberg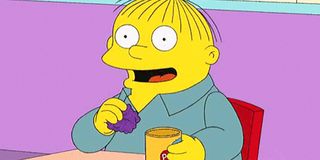 The Simpsons, in its 26 seasons, has produced so many killer jokes that guessing favorites would be akin to differentiating snowflakes. However, Arrow and The Flash writer Andrew Kreisberg, who wrote a few episodes of The Simpsons early in his career, revealed the best piece he'd ever written was actually a joke from his brief 2002-2003 run of the show. It's off-color to say the least.
Speaking to BuzzFeed for piece in which several industry writers reveal their favorite written works, Kreisberg reveals his "choo-choo-chosen" moment to be a Simpsons joke involving the eccentric Ralph Wiggum.
Varied in meaning, none of which Ralph Wiggum actually intended, "number three" could infer that the awkward auteur of consumable adhesives is experiencing an impending involuntary emission that's typically of the nocturnal variety. Regardless, the joke in its vagueness is very much played to the character. The gentle, but odd son of Chief Clancy Wiggum is typically portrayed as sporting a demeanor that amalgamates curiosity with perpetual confusion. However, despite the line not making the episode's final cut, it still seems to hold a sentimental value for Kreisberg, possibly due to the much-needed validation that it provided the then up-and-coming television writer from the comedy veterans behind The Simpsons
Of course, in the present, Kreisberg is about as far away from the yellow-skinned citizens of Springfield as one could get. With current works as writer/developer alongside Greg Berlanti for The CW's hit superhero series Arrow and its successful spinoff The Flash under his belt, he will branch out even further, having co-written the pilot to CBS' Supergirl, as well as an executive producer role on the pilot for The CW's Arrow/Flash dual spinoff Legends of Tomorrow. Yet, despite accomplishing all that celebrated work, a deceptively indecorous (and nixed) Ralph Wiggum one-liner remains his most personally celebrated. Perhaps it was due to it being the kind of moment in which one's chosen profession lets an individual finally know that they belong.
As for The Simpsons, which is moving forward with Season 27 and the already-confirmed Season 28, the show still seems able to tailor itself to the times while maintaining the classic ensemble identity, despite its various losses and departures. For the viewers who have been loyal enough to stick around, it's akin to a television equivalent of comfort food. Sure, you may have had it a million times and it's bound to yield few surprises, if any. However, it takes you back to a happy time and place. Even if you've stopped watching religiously, there's still some measure of luxury to enjoy, just in knowing that it remains a reliably consistent connection to the past.
Your Daily Blend of Entertainment News