A.D. The Bible Continues Review: NBC's New Drama Is Pretty Good But Not For Everyone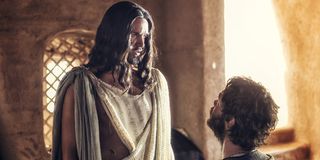 Although an emotional and inspirational story, A.D. The Bible Continues starts out with fast-paced action, thanks to raging mobs and a funky score that keep things moving. The story eventually slows down, but there's a lot to get through during the first episode. Coming just in time for the Easter holiday, A.D. features the disturbing death of Jesus on the cross, but the crucifixion of Jesus isn't the core part of the story. Instead, it sets A.D. up for what comes after.
A.D. is the follow up to The Bible, the History miniseries that crushed on the network back in 2013, giving viewers some of the big stories from the New and Old Testament. More than 13 million tuned in for the premiere of that series, and NBC is doubtless hoping for equally large numbers for its own 12-part drama. This time around, the story is sticking with the tale of Jesus of Nazareth's crucifixion and the events following his death on the cross.
Sunday's episode is a highly emotional one, splitting time between the traditional narrative about the death of Jesus Christ and the political backdrop which led to his arrest. A.D.'s biggest selling point is that it takes many of the most iconic moments from the death and rising of Christ and puts them together with enough emotional bent to keep viewers invested. It's harrowing to see Jesus' mother Mary have to watch as the Roman soldiers spear his side after he's already gone. It's painful to see Jesus' disciples sad and listless but still hopeful following their leader's death. Even though Judas, Peter and Mary Magdalene's stories should be familiar to those watching, it's not often that they're actually presented on television with any kind of real budget.
A.D. does falter in that it jumps into its main story with little build-up and backdrop. Those who don't know the key players in the Bible will have trouble differentiating who is who in the burgeoning religion of Christianity. The key thing to take away from this, however, is that those who enjoyed History's The Bible, who already have an intense knowledge and key understanding of the tenets of Christianity, will find plenty to like about A.D. The Bible Continues. That's the audience that NBC should be—and likely is—shooting for, and for those audiences, A.D. is a great fit.
A.D. is a frenetically charged story that is wrought with gentle lessons and flawed personalities, although it does delve into mundane details and goofy CGI on occasion. It features plenty of relatively unknown actors; Dallas' Juan Pablo Di Pace plays Jesus, Camelot's Chipo Chung plays Mary Magdalene, character actor Adam Levy plays Peter during the two episodes NBC made available for viewing. It's an epic sort of narrative pared down to fit into a network package and budget; while the (seemingly) CGI'd shots of landscapes look good and are used often, the stylizing in the Holy Spirit scenes leave something to be desired. It's an old narrative that hasn't been modernized as much as it has been repackaged in a snappy manner. It mostly works.
A.D.: The Bible Continues' story has a lot going for it, but the smartest thing that NBC did was decide to premiere the series during Easter weekend. Roma Downey and Mark Burnett's narrative is the perfect fit for a weekend that many spend on religion, contemplation and the celebration of Jesus' life. It should have no trouble landing viewers, thanks to it being an unusual project for television with a wide fanbase. It certainly isn't a series for everyone, but A.D. knows exactly what it is and what audience it is targeting. Especially if you are a Christian, there are worse ways to spend a Sunday night.
Rating:
NBC's A.D. The Bible Continues premieres Sunday, April 5 at 9 p.m. ET.
Your Daily Blend of Entertainment News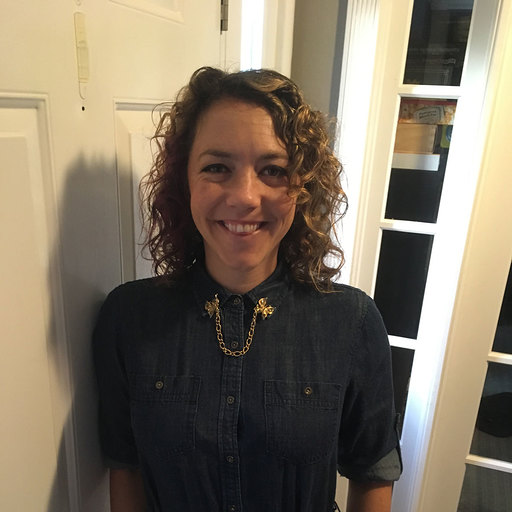 Reality TV fan with a pinch of Disney fairy dust thrown in. Theme park junkie. If you've created a rom-com I've probably watched it.