The Big Bang Theory: Where Are Sheldon And Amy Going Now?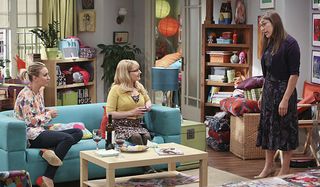 For the last several weeks, we've been hearing about Amy and Sheldon moving on and encouraging new love interests. The Big Bang Theory went so far as to even sign on Stephen Merchant and Analeigh Tipton to play potential new love interests for The Big Bang Theory characters. The show spent an extended amount of time setting up for last night's episode, "The Mystery Date Observation," which is why we were so surprised the episode ended up playing out the way it did. In fact, it left us wondering where Sheldon and Amy are going in the future. For a comedy, this was a painful episode in some ways.
While Sheldon only seems to be thinking about dating because Amy is dating, Amy has actually spent the last several weeks working to step out of her comfort zone and get back on the horse. During last night's episode of the CBS comedy, she even put on a dress she never normally would have worn, as it showed off her gams. (Of course, Penny has a wisecrack about her "scandalous" costume choice.) Unfortunately, her date with Merchant's Dave didn't go over well, at all. His character was pretty one-note, and that note included an obsession with Sheldon Cooper. Thus, Amy on her first date was forced to think about Sheldon Cooper, over and over again.
Sheldon, on the other hand, still hasn't learned anything since his break-up with Amy. Sheldon still has no interest in connecting emotionally, and put together a puzzle ad with the help of the boys in order to find/entice someone who would basically be Amy 2.0. Astonishingly, it worked, and Analeigh Tipton showed up on his doorstep, as was teased earlier this week. However, she showed up after the deadline, and Sheldon shut the door (both literally and metaphorically) on any potential for love.
Big break-ups are difficult. People are confronted with the ghosts of their former partners for weeks, months, maybe even years on end, depending on how important the relationship was. I'm not sure if I expected a little more longevity or optimism from Merchant and Tipton's guest appearances, but this week's episode had some notes that were sad, at least in between all the one-liners. It's not just because Amy and Sheldon's dates didn't work out—although Sheldon didn't even give his a chance— it's also just because they are still stuck thinking about one another, and I'm not sure that's a good thing at this point.
There's always been the underlying assumption that Sheldon and Amy will get back together. Still, we've known for a while that showrunner Steve Molaro was going to milk the problems between Sheldon and Amy for all they are worth. A few months ago, he even stated he didn't know when the "dynamics" would change on the series. However, whether you are a fan who enjoys the Amy/ Sheldon relationship or you're a fan who thinks they are not right for one another, I think we can all agree on one thing: Sheldon has to work on himself and try to see outside of his selfish viewpoint if it's ever going to work out. And while Amy's actually pretty patient, she's going to need to come to terms with who Sheldon is as an individual. I honestly have no idea how The Big Bang Theory will get there, or even if the show should get there. I do know there's a part of me that is happy the dates didn't work out.
Next week, The Big Bang Theory is back for a special Thanksgiving episode. That will hit CBS' schedule (opens in new tab) on Thursday, November 19 at 8 p.m. ET.
Reality TV fan with a pinch of Disney fairy dust thrown in. Theme park junkie. If you've created a rom-com I've probably watched it.
Your Daily Blend of Entertainment News
Thank you for signing up to CinemaBlend. You will receive a verification email shortly.
There was a problem. Please refresh the page and try again.