Big Brother 17 Live Feed Spoilers: Who Won The Veto?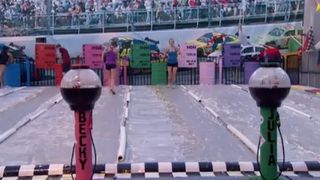 This Big Brother Spoiler Update includes who won Thursday's Head of Household competition, who they nominated, who won the Veto and who the likely target is. Spoilers ahead!
Head of Household
Becky
Nominated
Steve
Shelli
Won the Veto
Steve
It was clear from the start of Thursday night's Head of Household competition that Becky was dominating, and if past seasons are taken into account, when someone starts out ahead in the sliding-lane comp, they tend to hold that lead. Julia gave Becky a run for her money, but wasn't able to catch up, and Becky ended up winning Head of Household, another $5K and the Never Not pass.
Operation Get Vanessa Out appears to be in full effect on the Big Brother live feeds (opens in new tab), and I really don't miss Battle of the Block. The game is much more exciting without that layer of complication. After floating with the power for weeks, buddying up to Clay and Shelli (and Vanessa) when they were running things, and then shifting over to James' group when he won, Becky seems to have finally chosen a side, and she's demonstrating that in her efforts to target Vanessa this week. Of course, her diary rooms could tell a different story, but going by how she's been acting in the house, and who she appears to be confiding in, it seems like she's with James, Meg and Jackie. And they want Vanessa out.
Steve and Shelli were put on the block, in the hopes that Vanessa wouldn't have a shot at the Veto. Vanessa made an agreement with Steve and Shelli that if they picked her to play the Veto and she won it, she'd use it to save them. I think she flat-out told Steve if Shelli picked her to play and she won, she'd save Shelli. Shelli got players choice from the Veto draw and chose Vanessa to play.
It sounds like the Veto competition was the matching game involving the houseguest comic books and the zip-line. Steve won it, though it sounds like Meg wasn't far behind him in time.
Steve will most likely use the Veto on himself and if all goes according to what everyone's talking about, Becky will nominate Vanessa in his place, making Vanessa and Shelli the two nominees come Thursday night. We can probably rule out any twist that might save either of them, as Thursday's a double eviction and Big Brother isn't likely to have much time to play out anything other than that.
Going under the assumption that she is the replacement nominee (Veto Ceremony happens Monday), Vanessa's odds aren't looking good right now. Again though, there's always some sliver of possibility that Becky has some other plan that she hasn't revealed to anyone. She's playing like she's putting Vanessa up though, so we're going with that impression for now.
Why is Vanessa the target? I think she came out of her own HoH week looking good, with most of the shade falling on Shelli and Clay for Jason's eviction. Had Vanessa laid back and let the house decide which of those two should go last week, she might have been ok, though it seemed like people were growing wise to her scheming. Regardless, she didn't lay back, and I think her determination to keep Shelli safe may have drawn more attention to how much influence she's had over the house.
Becky has NOT told Vanessa that she's the backdoor target, even after Steve won the Veto. Not sure why she's determined to make it a blindside, but it seems like it's going to go down that way. Vanessa's predisposed to paranoia, and she's had a pretty good read on the house so far, so I'm guessing she knows there's at least a chance she might go up. Becky had a conversation with Shelli before nominations, so she knows Vanessa is the target. Becky's alliance (James, Meg, Jackie) know Vanessa's the target. And I'm pretty sure Johnny Mac knows. Everyone else was told Johnny Mac is the backdoor target, though I don't know why anyone would believe that, as he and Becky have always been close.
There are eight people voting, so even if Vanessa could convince Austin, the twins and Steve to save her, that would force a tie, which Becky would break. Right now, Becky appears to have more trust in Shelli than she does Vanessa, which wouldn't be a surprise given that she was semi-working with Shelli and Clay. Unless that somehow blows up, I don't see her voting to evict Shelli over Vanessa. Vanessa's best bet would be to look for a fifth vote among the other side of the house. But with double eviction coming up, I'm very doubtful that anyone will risk going against the grain.
Kelly joined CinemaBlend as a freelance TV news writer in 2006 and went on to serve as the site's TV Editor before moving over to other roles on the site. At present, she's an Assistant Managing Editor who spends much of her time brainstorming and editing feature content on the site.
Your Daily Blend of Entertainment News
Thank you for signing up to CinemaBlend. You will receive a verification email shortly.
There was a problem. Please refresh the page and try again.