Big Brother Season 15 Houseguests Include The Sister Of Former Winner Rachel Reilly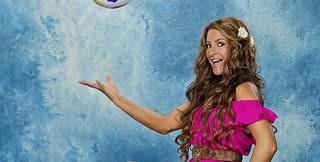 No one comes between Rachel Reilly and her sister. Well, except for Big Brother. Because bringing a former reality TV contestant's sibling into the Big Brother house worked out so well the last time they tried it (sarcasm), Big Brother has done it again for Season 15 of the series. One of the contestants entering the house this season is the winner of former two-time contestant and one-time Big Brother winner Rachel Reilly.
Yesterday we shared the list of contestants set to be quarantined in this season's Big Brother house to compete against one another for the half-million dollar prize. Among the 16 players is Elissa Slater, a 27-year-old nutritionist from Concord, North Carolina. Apart from the vague resemblance to her sister, nothing about her information jumped out to make us draw the connection between Slater and Reilly, but it didn't slip by EW. The site pointed us toward Elissa's video interview with Jeff Schroeder, who just so happened to compete with Rachel in Season 13 of the series:
As EW points out, Elissa is married, so we probably shouldn't expect melodramatic, showmantic quarrels between her and some guy. Then again, things worked out pretty well for her sister in the showmance department. Rachel Reilly married fellow Big Brother contestant Brendon Villegas last year.
What didn't work out so well was the last time Big Brother made reality TV a family affair. For Season 14 of the CBS reality series, Survivor villain Russell Hantz's brother Willie was among the houseguests, but a violent outburst got Willie kicked out. Let's hope Elissa doesn't follow in Willie's footsteps there. By her video, she seems friendly enough. I'll be especially interested to see if she discloses her connection with a former winner. Considering the houseguests will often look for a scapegoat to eliminate in the first week, she might be better off not revealing this little tidbit of information until she has time to get to know people and figure out who she can trust. Which is no one.
Of course, this bit of info may actually help Elissa out on the outside. Right now, voting is open for the first BB MVP. Those fans of Rachel may want to throw their support to Elissa.
If you haven't seen it already, watch the video of Julie Chen giving a tour of this season's Big Brother house here. Season 15 premieres Wednesday, June 26 on CBS.