The Big Difference Between The Outlander Season 2 Premiere And The Book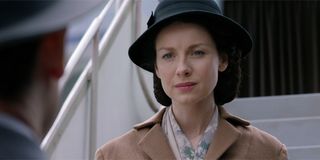 Spoilers from this week's Season 2 opener "Through A Glass Darkly" are in this article. If you haven't caught the episode, yet, you may want to check out one of our other lovely articles.
Outlander Season 2 finally opened up tonight with an episode that was dark and emotional. However, if you were expecting a ton of those beautiful Parisian costumes we've seen in the promos or a slew of banter between Jamie and Claire, you may have been very disappointed by the first episode. That's because most of the episode is actually set in the future—just not in the way those who have read Diana Gabaldon's series may think.
Season 2 actually picks up with Claire waking by the stones that originally gave her the ability to time travel. It soon becomes clear that she's back to her own time and the year is 1948. While she was gone, Frank never stopped hoping and waiting for her, and at first it seems as if a reconciliation between them might be easy. Of course, than we learn Claire is pregnant, and things are so much more complex after that.
Book spoilers are in this paragraph, obviously. In the books, the setup is very different and even more confusing. Dragonfly In Amber actually kicks off in 1968. Readers learn that Claire time-hopped to the future some time before the Battle of Culloden. She returned to Frank and had a girl, Brianna, who is a young adult in 1968. Claire and Brianna visit Scotland, where they meet a now-grown Roger Wakefield and Claire sits down and tells Brianna the truth about her time-traveling adventure and her daughter's real father. She's telling the story when the book flashes back to what happened in Paris.
I always thought this storytelling formatting was a little confusing at the beginning of the book. Thus, when Roger and Brianna weren't cast right away and people close to the show stated bigger changes would be made this season, the beginning seemed like a natural place for changes to occur. Without getting into the spoilers, this setup probably seemed like the best way to get to the point the book reaches at the end of the novel without hopping around to three different times right away. In addition, "Through A Glass Darkly" gives Tobias Menzies the opportunity to do a lot of work as Frank. When last we saw the actor, he was playing Frank's ancestor Black Jack Randall, and it's nice to see him play a character who has some similarities but is far softer and less sadistic. Plus, we really needed more scenes between Claire and Frank to connect the dots more to who Claire used to be when the series started. This episode fulfills that.
Still, in some ways it's not the best kicking off point. For instance, we don't get a lot of Jamie and Claire action until near the end, when they reach France and make the first inroads to become a part of the revolution. How the show hops back to the 18th Century is odd, too. Claire steps off to a plane to Boston and is offered a hand down. Just then, the episode cuts to 18th century France where a very different hand is helping Claire off of a ship.
Plus, Outlander has also been teasing Brianna and Roger Wakefield for months. Keeping the setup of the original book would have allowed that plotline to come together and allow us to meet these two huge characters earlier rather than later. Obviously, since Brianna and Roger have been cast, we expect them to pop up sometime this season, but that "sometime" just as easily could have been during Episode 1.
In the weeks to come, Jamie and Claire's adventures in Paris are bound to be the focal point and we're guessing the show will remain similar to Dragonfly in Amber in a lot of ways. Regardless, this week certainly changed the trajectory of the story for television and changed the way readers have viewed this universe for a long time. At least it will keep us guessing as the show moves forward.
New episodes of Outlander air on Starz (opens in new tab) on Saturday nights at 9 p.m. ET.
Your Daily Blend of Entertainment News
Reality TV fan with a pinch of Disney fairy dust thrown in. Theme park junkie. If you've created a rom-com I've probably watched it.
Your Daily Blend of Entertainment News
Thank you for signing up to CinemaBlend. You will receive a verification email shortly.
There was a problem. Please refresh the page and try again.