What Outlander Season 2 Is Going To Do About Brianna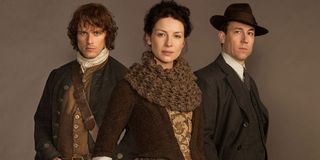 Outlander is currently in the middle of production on its second season, which is set to air on Starz in 2016. We've already gotten some juicy tidbits regarding the upcoming season of the drama, including the fact the new episodes will be mostly set in Paris, and casting reports have indicated that Jamie and Claire's daughter, Brianna, will eventually feature into the plot. But the casting report also indicates that Brianna's storyline might be greatly changed for the new season.
If you haven't read Diana Gabaldon's Outlander novels and don't want to get into some serious details about the series, now is probably a good time to bail.
In fact, the casting report—which first came from TV Line— notes that a plotline from the fourth book, Drums of Autumn is actually listed in the casting call for the Outlander TV series. Here's what the casting call has to say:
We've known for a while now that Brianna would be likely to appear in Season 2. After all, the second book, Dragonfly in Amber, prominently features Brianna, who goes on a trip to Scotland with her mother in 1968. While those events occur near the beginning of the book, we knew Starz's TV series would be shifting around dates and events to pick up where we left off in the mid-1700s instead of the 1960s. However, despite the shifts, room will still be made for Brianna so that we can delve into her important story arc and it seems that she might time travel right off the bat rather than several seasons from now.
It's not uncommon for TV shows or movies to be different from the books the shows are derived from. Sometimes changes are made because the medium is different, and concepts and plotlines need to be shown in a different way on TV than through the written word. Other times changes are made to streamline the plot, or simply because the showrunner or director wants to go in a different direction for one reason or another.
I personally always found the opening chapters of Dragonfly in Amber to be a bit abrupt. The first book ends at nearly the same place the first season of Outlander ends and then jumps ahead to the 1960s, after which we learn about Claire and Jamie's adventures through Claire telling the time traveling story to her grown daughter and a historian known as Roger Wakefield, who also becomes an important character later in the series. It's all wibbly wobbly, timey wimey stuff, of course, made even more wacky by the complex way the narrative structure of the second book is set up. Ron Moore and the rest of the creative team aren't saying why the Brianna narrative will be changing, but since we already know the Paris stuff is going to happen first, I'd guess it has to do with making the narrative a bit more straightforward.
Obviously, we still have a while to wait to see how this will play out. Outlander isn't expected to return to Starz's schedule until 2016. In the meantime, you can see what else the network has coming up with our fall TV premiere schedule.
Amazing Race & Top Chef superfan with a pinch of Disney fairy dust thrown in. If you've created a rom-com I've probably watched it.
Your Daily Blend of Entertainment News
Thank you for signing up to CinemaBlend. You will receive a verification email shortly.
There was a problem. Please refresh the page and try again.