Black Sails Season 2 Teaser Reveals Ships, Guns, Swords And Pirate Adventure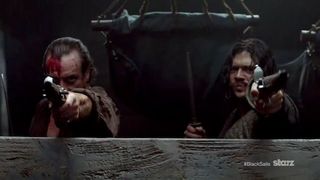 "Men of these waters, they don't fear ships. They don't fear guns. They don't fear swords."
"Then what do they fear?"
Good question! We still have a while to wait for Black Sails to return, but Starz promoted the adventurous pirate series this weekend when they debuted Outlander. The teaser for Black Sails Season 2 reminds us that Black is Back in 2015. And we're teased with a bit of action, adventure, ships, swords and some sexy!
In addition to Captain James Flint (Toby Stephens) telling John Silver (Luke Arnold) that the men of the seas don't fear a whole lot, if anything, we we're also given a look at what's head for the pirate drama. That includes a smiling Charles Vane...
Some canon fire...
Kissies!
And punches!
Created by Jonathan E. Steinberg and Robert Levine, Black Sails is set up as a prequel to Robert Louis Stevenson's novel Treasure Island and centers on Captain Flint and the relationship he develops with a young John Silver. Hannah New plays Eleanor Guthrie, Tom Hopper plays William "Bones" Manderly. And Zach McGowan plays Captain Charles Vane.
Starz was quick to give the series the green light for Season 2, renewing it long before the first season even debuted. Given that the first season debuted in January, we might expect Season 2 to comeback around the same time next year. In the meantime, those looking for a different kind of adventure -- one with fewer beaches anyway -- can check out Outlander on Starz on Saturday night.