Boardwalk Empire Season 5, Episode 4 Watch: Nucky And Margaret, Partners In Crime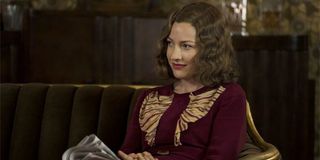 "Nothing changes does it?"
It's hard to believe that the final season of Boardwalk Empire is already half-over. That's right, in case you didn't know, Season 5 only consists of eight episodes. Time is running out for HBO's consistently brilliant but often overlooked period piece. It not even being nominated for 'Outstanding Drama' at last year's Emmys was a tragedy on par with, well, the bootlegging series' long list of lives cut short. (I miss Richard Harrow. A lot.) And while this season hasn't always delivered the 'good stuff,' it's still better than most dramas and deserved a longer shelf life. Let's not pretend like the decision to end after five seasons was an artistic one. It's about the bottom line. How many people are tuning in? How much does it cost to produce? How much? Or should I say...
"¿Cuánto"
Since the season premiere, Boardwalk Empire has been planting seeds about an uprising in Cuba, and it finally came into play during last night's episode. Well, came into play is an understatement, as Sally joined the aforementioned long list of lives cut short. You could tell right from the beginning of her story that something bad was brewing, starting with the poetic yet sweaty banker and continuing with the owner of Barcardi and his 'wife's vacation.' Warning signs were everywhere and Nucky would have also been caught up in the shit-storm had a literal storm not kept him out of the air. Sally did manage to make the drop though; does that mean Nuck is still set up as the American distributor of Barcardi rum? And is that the first major character to bite the dust this season?
"Partners in crime."
With Kennedy declining the proposed partnership combined with Margaret's financial problem, our protagonist cannot afford to lose the exclusive contract. And without question, the time spent with Nucky and Margaret was my favorite thread of the episode. By a lot. It's a joy to watch the two terrific actors work together again – Macdonald was especially wonderful this week – and they couldn't have been given better dialogue. Saying so much, while saying so little. The writers outdid themselves, especially during the exchange on the boardwalk. If Nucky has any chance at a happy ending, and he very likely does not, it will be with Margaret. It's not a coincidence that he called her Mabel when she showed up at his place last week. His past love. I liked how impressed he seemed by her achievements over the last seven years and that he then entrusted her to take care of Mrs. Rothstein.
"It's not a matter of politics but of family."
Before getting to the flashback sequences in "Cuánto," I just want to point out how different the transition from the opening titles to the first scene was. Has Boardwalk ever done anything but a hard cut from black? The dissolve to the past was a bit jarring and yet worked really well. Anyway, back to the flashbacks, which I'll admit are slowly starting to grow on me, probably because we're learning that it was Mr. Lindsay (Atlantic City's Sheriff) and not the Commodore that served as a mentor/surrogate father for Nucky. The dinner table scene was wonderful and I may have teared up in tandem with the soon-to-be 'Deputy Sheriff.' Speaking of Sheriffs, the stuff with Eli was also well executed. The younger brother never wanted to go anywhere. Their relationship is reinforcing this season's themes about how history has a tendency to repeat itself. Nothing changes.
"Scarface Capone rules Chicago with iron fist!"
The scenes in Chicago were also quite thrilling and helped make "Cuánto" the best episode of the season so far. Having Lucky visit Al to discuss terms immediately creates tension because we know the former is planning to wipe everyone out that interferes with his vision of the 'business,' and the latter is a full-on lunatic. Loose cannon would be too mild a descriptor for the celebrity gangster. To ratchet said tension up even higher, Lucky recognizes Mueller from his days as Van Alden and once again the past comes back to haunt one of our characters. The actual Fed in the room does everything he can to prevent Capone from killing Mueller, and then discovers his real identity. Could he pressure Mueller into helping bring down Scarface? That would be a nice way for his story to come full circle. Only four episodes left.
"We'll see how it plays out."
The fifth and final season of Boardwalk Empire continues with Episode 5, "King of Norway," next Sunday at 9 p.m. ET on HBO. Created by Terence Winter, the series stars Steve Buscemi, Kelly Macdonald, Michael Shannon, Shea Whigham, Vincent Piazza, Anatol Yusef and Stephen Graham.
Here's a look at "King of Norway"...
Your Daily Blend of Entertainment News
Thank you for signing up to CinemaBlend. You will receive a verification email shortly.
There was a problem. Please refresh the page and try again.