CBS Announces Survivor - Redemption Island Cast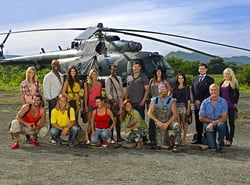 CBS has announced the majority of its cast for Survivor: Redemption Island, which premieres February 16. Included on the list are a Miss USA contestant and former NFL players. Of the 18 cast members two have yet to be announced, those will be former contestants making a return. This isn't the first time old contestants have made a return, Stephanie LaGrossa and Bobby Jon Drinkard from the Palau season came back in Guatemala.
We have the full list of announced contenders below, but the real question is where the hell is Redemption Island located. I looked on my handy dandy globe, even glancing about the area near the Falkland Islands, and couldn't find the place. Turns out this is a made up island for the show. This season contestants who are given the torch snuffing will go to a magical island where they can battle to get back on the show at a later time. Will they have to fight dragons? Is this the first version of the Hunger Games? No, just a set of normal challenges and duels to return to the main island.
Unfortunately this means that those who are voted off won't be whisked away to a hotel room with a hot bath and tiny little bottles of cute overpriced vodka. They will remain in the same style conditions as the main group, so as to not give them the advantage of recouping. I mean, if that was the case you can be sure someone would purposely ensure they got kicked off the island six or seven weeks in so that they could rest and come back ready to destroy the sickly remains of their tribemates.
The 22nd season of the long running reality series is filmed on the same beaches as Survivor: Nicaragua. Is CBS really already running out of notable islands and locales that they need to make stuff up? How far away are we from Survivor being shot on a set? Perhaps the Big Brother people could lease theirs out.
Again, below is the cast list and a video introducing you to the new survivors. CBS plans to announce the returning players later this week. Survivor: Redemption Island premieres Wednesday, February 16 at 8:00pm ET on CBS.
Andrea Boehlke
Age: 21
Current Residence: Random Lake, Wis.
Occupation: Student
Matt Elrod
Age: 22
Current Residence: Nashville, Tenn.
Occupation: Pre-Med Student
Francesca Hogi
Age: 36
Current Residence: Washington D.C.
Occupation: Attorney
Kristina Kell
Age: 46
Current Residence: Malibu, Calif.
Occupation: Law Student
Grant Mattos
Age: 29
Current Residence: West Hollywood, Calif.
Occupation: Yoga Instructor
Phillip Sheppard
Age: 52
Current Residence: Santa Monica, Calif.
Occupation: Technology Executive
Natalie Tenerelli
Age: 19
Current Residence: Acton, Calif.
Occupation: Professional Dancer
Ashley Underwood
Age: 25
Current Residence: Benton, Maine
Occupation: Nurse
Mike Chiesl
Age: 31
Current Residence: Del Mar, Calif.
Occupation: Former Marine
Ralph Kiser
Age: 44
Current Residence: Lebanon, Va.
Occupation: Farmer
Krista Klumpp
Age: 25
Current Residence: Columbia, S.C.
Occupation: Pharmaceutical Rep.
David Murphy
Age: 31
Current Residence: West Hollywood, Calif.
Occupation: Defense Attorney
Stephanie Valencia
Age: 25
Current Residence: Long Beach, Calif.
Occupation: Waitress
Sarita White
Age: 36
Current Residence: Santa Monica, Calif.
Occupation: Visual Effects Producer
Julie Wolfe
Age: 50
Current Residence: Oceanside, Calif.
Occupation: Firefighter
Steve Wright
Age: 51
Current Residence: Huntington Beach, Calif.
Occupation: Former NFL Player
Your Daily Blend of Entertainment News
Staff Writer at CinemaBlend.