CSI: Cyber Review - A Drama So Formulaic It Could Have Been Created By Computer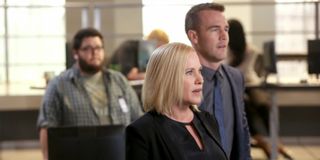 "He's angry, he's out of control, he wants his baby business back. I'm just buying us a small window of time so we can whack that mole."
For all the complaining that comes with the supposed over-saturation of superhero series on TV, very little is said about the mind-numbing number of copycat police procedurals, including franchises like Law & Order, NCIS, Criminal Minds and CSI. At least the many comic book-inspired series vary in genre and tone (for all their similarities, The CW's Flash and Arrow are still day and night. Frequently, cop shows like the 'new' CSI: Cyber are simply carbon copies of their originals--new faces in a new setting with the same old everything else. It's so formulaic and uninspired, it might as well have been written and directed by computers.
CSI: Cyber, the fourth show in CBS' Crime Scene Investigation franchise, follows the FBI's Cyber Crime Division as they try and police the wild west that is the 'deep web.' Based on real-life Cyber Psychologist Mary Aiken, Patricia Arquette's Special Agent Avery Ryan leads the special unit devoted to solving tech-related crimes in the years after a run-in with a (still-at-large) hacker in the early years of the internet ruined her psychology practice. The rest of the team consists of James Van Der Beek's 'action-junkie' Agent Elijah Mundo, Charley Koontz' computer genius Daniel Krumitz, Shad Moss' criminal turned white-hat hacker Brody Nelson, Hayley Kiyoko's trend-savvy Raven Ramirez, and Peter MacNicol's unit supervisor Assistant Director Simon Sifter, who also functions as a bridge between Cyber and other departments in the FBI who might be in need of some tech-support.
The worst part of CSI: Cyber might be the disconnect between its absolutely stale presentation and the supposed cutting edge subject matter. In the series premiere, "Kidnapping 2.0" (that title says it all, really), the rather clever 'ripped from the headlines' premise - a crime ring is using baby-cams to hold online auctions for desperate foreign parents- is betrayed by the painfully dated editing and direction. Even the score is representative of this odd dichotomy, peppering EDM accents into the police procedural's familiar dark and ominous tones.
The one thing the series has going for it is casting. You probably couldn't ask for a better lead for your new show than the most recent Best Supporting Actress even if Arquette does seem a little bored by the whole thing. She's more stilted than usual, possibly because the material is way less ambitious than her last project. Van Der Beek is easily Cyber's most watchable cast-member, effortlessly charming and able to handle the more physical requirements of the role. The three techies - Koontz, Moss and Kiyoko - are all also fairly charismatic but it's not enough to enliven the dull dialogue or utterly predictable plotting. With the current wealth of incredible television, CSI: Cyber isn't worth any space on your DVR hard-drive.
Rating:
CSI: Cyber premieres TONIGHT, Wednesday, March 4 at 10:00 p.m. ET on CBS. Inspired by the work of real-life Cyber Psychologist Mary Aiken, the series stars Patricia Arquette, James Van Der Beek, Charley Koontz, Shad Moss, Hayley Kiyoko and Peter MacNicol.
Your Daily Blend of Entertainment News