CSI Is Losing George Eads And That's A Really Bad Sign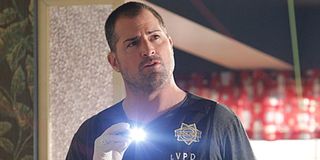 Since CSI: Crime Scene Investigation began airing in 2000, the show has featured a revolving door of lead cast members and bit players. By now, fans are used to change, but that doesn't mean the alterations haven't affected the show in specific ways. Today it was announced that veteran TV actor George Eads, who plays Nick Stokes, is leaving CSI at the end of the season, forecasting yet another period of change.
If you've been keeping up with CSI over the last couple of seasons, Eads' decision shouldn't be a huge surprise. He's been a part of the series since the beginning, but last season, there was an on-set problem between Eads and one of the writers on the show about his character and the direction the character was going in. Initially it seemed like Eads might quit then, but instead he took a leave of absence, came back and signed on again for this fall's Season 15. Despite the former problems, TV Guide is reporting that Eads' decision to leave was an "amicable" one, and his exit will be linked to the recurring Gig Harbor Killer case.
The decision may be a cordial one, but it is still a bad turn of events for CSI. The show is already an aging veteran featuring few original cast members, although Eric Szmananda has been around since 2000 and Jorja Fox returned as a main cast member in 2012. CSI is not the only procedural to ever lose a team player. In fact, a lot of CBS' veteran shows, including sister drama Criminal Minds, have seen a lot of casting changes over the years. But the difference is that Criminal Minds has retained most of its key players, while CSI is almost unrecognizable, and will be even less so once Eads is finished with the show at the end of Season 15.
To make matters worse for the drama, CSI also saw its full season episode order cut from 22 episodes to 18 episodes this year. The long-running drama's ratings have also been dwindling in recent years, and have even dropped quite a bit from what the show was doing during Season 14. Eads' exit isn't the end of the world, but it's just one more reason for fans to stop watching the ever-tired drama.
Obviously, CBS isn't going to cancel CSI because of the loss of the Nick Stokes character. However, CBS is such a well-oiled machine that each year the network ends up cancelling a few moderate performers in order to make room for brand new fodder the following fall. With 15 seasons under its belt, CSI's time in the schedule might very well be up. If that turns out to be true, Eads' early decision will prove to be perfectly timed.
Your Daily Blend of Entertainment News
Reality TV fan with a pinch of Disney fairy dust thrown in. Theme park junkie. If you've created a rom-com I've probably watched it.
Your Daily Blend of Entertainment News
Thank you for signing up to CinemaBlend. You will receive a verification email shortly.
There was a problem. Please refresh the page and try again.