Californication Season 4 Review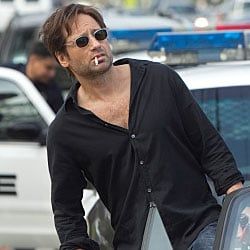 I often find myself torn between loving and loathing Hank Moody. I suppose that's the biggest draw for Californication as much as it is for the lead character. Moody is a flawed man but not without a sense of right and wrong or the ability to love. In Season 4, we see him facing the consequences of some of his actions as he attempts to get his life on track… again.
(Minor spoiler warning: This review contains vague information about the plot and characters in the fourth season of Californication.)
To catch you up before we proceed, Californication follows Hank Moody (David Duchovny), a philandering writer in California with an on-again-off-again relationship with Karen (Natascha McElhone). They have a teenage daughter Becca (Madeleine Martin) who's as aware of her father's flaws as Karen is, though usually somewhat more forgiving. Hank's best friend is his agent, Charlie Runkle (Evan Handler). Charlie's got somewhat of a checkered past when it comes to sexual relationships and is in the final throws of divorce with his wife Marcy (Pamela Adlon). And finally, there's Mia Cross (Madeline Zima), a girl who semi-seduced Hank when she was sixteen and then claimed credit for the book he wrote about the incident.
Up until the end of last season, Hank had been able to keep the accidental statutory rape incident with Mia from Karen, Becca (who is friends with Mia), the law and the general public and we've always wondered what would happen if everyone were to find out. How would Karen and Becca handle it? What kind of legal ramifications would there be? How would it affect Hank's career? All of these questions are about to be answered as the proverbial cat is out of the bag.
In Season 4, Hank attempts to gain forgiveness from Karen and Becca and he also has to face the legal consequences, not only for assaulting an officer at the end of last season but for what went on with Mia. Enter Carla Gugino, who plays Abby, Hank's sexy and confident attorney. While Abby and Hank dance around their obvious and immediate attraction toward one another, she works to clear his name (legally, anyway).
Hank's back behind the wheel of his book now that everyone knows he wrote it and he's put to the task of writing the script for the movie. The struggle to get the movie made presents a whole new set of challenges and characters. Introduced to the story is Sasha Bingham (Addison Timlin), the Hollywood starlet cast to play Mia. Rob Lowe plays Eddie Nero, an actor who might play Hank in the movie. Nero's a scruffier, more crass version of Hank, with a side of crazy. That might be hard to picture but Lowe commits to the role perfectly. He's barely recognizable behind his shrub-like goatee and insane enthusiasm for his craft. Stephen Tobolowsky plays Stu Beggs, the producer on the movie. He takes an interest in Marcy but she has her own issues to deal with this season. And since we're on the subject, it needs to be said that Pamela Adlon is funnier than ever in Season 4.
Also among the guest appearances are Zoe Kravitz (who plays the lead singer of the band Becca joins) and Michael Ealy (playing her father.) Later on in the season, you'll see Tommy Lee and Rescue Me's Callie Thorne.
What I love about Californication is that I often have a hard time knowing how to feel about Hank Moody. On one hand, he's the anti-hero. Far from perfect and often the victim of his own crimes, there's a part of me that wants to see him get what he has coming to him, especially when his actions hurt Becca and Karen. And on the other hand, we see his constant desire to claim the happily-ever-after future he wants to have with Becca and Karen, if only he could stop putting himself in such compromising situations. It's easy to identify with Karen and Becca in the way they see Hank. They love him for all of the reasons we do. He's carefree, talented, intelligent and irresistibly charming and despite all of the screw-ups and screwing-around, they still want him in their lives. But neither are pushovers, easily willing to look past Hank's indiscretions and that's what makes them such great characters. They're Hank's challenge as well as his reward.
Some series start to show their age around Season 4 but Californication certainly isn't one of them. Californication has always stood out as a show that embraces the balance between humor and drama, never quite veering all the way into one territory or the other and that holds true in Season 4. The quality of the writing is as fresh and clever as ever, as is the acting. What's more, the story moves forward without drifting into completely unfamiliar territory. If you're hoping this will be another great season of Californication, I suspect you'll be pleased with what Showtime has in store for you here.
I don't know if Hank will ever fully redeem himself or if he's capable of growing up and settling down to be the kind of husband to Karen and father to Becca that both deserve but I guess that's part of what works so well for this series. The fun of Californication lies as much in watching Hank try to get his life together as it does in seeing him let it all fall apart when temptation proves to be too great to resist.
Californication Season 4 premieres Sunday, January 9, 2011 at 9:00 p.m. on Showtime.
CLICK HERE for clips and photos from the season premiere.
Your Daily Blend of Entertainment News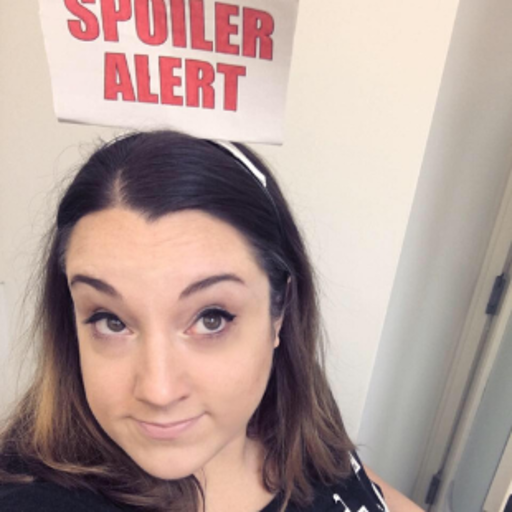 Assistant Managing Editor
Kelly joined CinemaBlend as a freelance TV news writer in 2006 and went on to serve as the site's TV Editor before moving over to other roles on the site. At present, she's an Assistant Managing Editor who spends much of her time brainstorming and editing feature content on the site.