Clint Eastwood's Family To Star In Kardashian-Esque Reality Show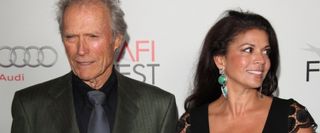 The Kardashians are still dominating American television with their skills of… well, absolutely nothing. But it's never too late to start looking for the next big thing in reality programming, and apparently E! has set their sights on Dirty Harry and his family to make their day. As inconceivable as it may seem, the family of Clint Eastwood is going to be the subject of the next Kardashian-esque series; according to TMZ the show will explore what it's like to be in a family that's "Hollywood royalty," I guess as opposed to Hollywood hangers-on like the Kardashians. The show will focus not so much on Eastwood-- he can't exactly sell spin-off jewelry and perfume lines-- but on his teenage daughters and his wife, Dina.
Bunim/Murray productions, the people who invented The Real World and also the Kardashians, so this isn't just going to be some second-rate production. Though Eastwood won't be the focus on the show he has agreed to make a couple of cameos, though if he does anything but scowl at the shallow excesses of his family and stalk off to go direct another movie, I'll be highly disappointed. Though Dina Eastwood had previous experience as a TV anchor, neither of her daughters have much experience in the spotlight-- though apparently Francesca, who you can see here, apparently has ambitions of becoming an actress.
There's really no better way of getting attention than having your own reality show, though I have to assume people with the last name Eastwood don't have any trouble moving their way up the Hollywood ranks. We may only find out why they're doing the show when it airs on E!-- and I have to imagine we won't be all that happy to find out the answer, either.
(Clint and Dina Eastwood image via Helga Esteb (opens in new tab) / Shutterstock.com (opens in new tab))
Staff Writer at CinemaBlend
Your Daily Blend of Entertainment News
Thank you for signing up to CinemaBlend. You will receive a verification email shortly.
There was a problem. Please refresh the page and try again.