Cobie Smulders Reveals She Is Returning To Agents Of S.H.I.E.L.D.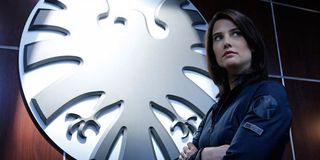 Ever since she was introduced in 2012, Maria Hill, played by How I Met Your Mother's Cobie Smulders, has become one of the most high-profile S.H.I.E.L.D. agents in the Marvel Cinematic Universe. Fans will be seeing her next month in Avengers: Age of Ultron, but we've now learned that we'll be seeing Hill on the small screen when she stops by Agents of S.H.I.E.L.D.
While plugging Avengers: Age of Ultron, Smulders revealed on Jimmy Kimmel Live! that she'll be appearing in an upcoming episode of Agents of S.H.I.E.L.D.. She didn't elaborate on whether her return will take place before or after Avengers: Age of Ultron, but with only three episodes left before the two-hour season finale on May 12, we can expect to see her in the coming weeks. Smolder also reiterated that her character serves to link the TV series and the movies together, so it's possible that she may serve as one of the connective threads between Agents of S.H.I.E.L.D. and Avengers: Age of Ultron.
Although she is frequently mentioned, so far Maria Hill's only two appearances in Agents of S.H.I.E.L.D. have been in the pilot and the Season 1 penultimate episode "Nothing Personal." In the show's first episode, she assigned Agent Grant Ward to Phil Coulson's new team (boy, did that turn out to be a mistake) and was aware of how Coulson had been revived from the dead. "Nothing Personal" followed up with Hill after S.H.I.E.L.D.'s collapse in Captain America: The Winter Soldier. Now working for Tony Stark so she would be legally protected, she tried to convince Coulson to hand over S.H.I.E.L.D. intel to the U.S. government so they wouldn't be sent to prison, pointing out the organization was essentially dead.
Given that the preview attached to this week's episode hinted that future episodes will be tied to Avengers: Age of Ultron, my guess is that Hill will be showing up in either next week's episode "The Frenemy of My Enemy" or the following one "The Dirty Half Dozen." Somehow she'll get drawn into a mission or operation with S.H.I.E.L.D. (be it our S.H.I.E.L.D. or Robert Gonzales' organization), willingly or unwillingly. Then once she's finished her dealings with Coulson and the rest of the team, we will follow up with her in Avengers: Age of Ultron, working with the heroes to defeat the titular villain.
You can check out the full Maria Hill excerpt from Smulders' Jimmy Kimmel Live! appearance below.
Agents of S.H.I.E.L.D. airs Tuesdays at 9/8c on ABC.
Connoisseur of Marvel, DC, Star Wars, John Wick, MonsterVerse and Doctor Who lore. He's aware he looks like Harry Potter and Clark Kent.
Your Daily Blend of Entertainment News
Thank you for signing up to CinemaBlend. You will receive a verification email shortly.
There was a problem. Please refresh the page and try again.