The Comeback Trailer Has Valerie Cherish Seeing Red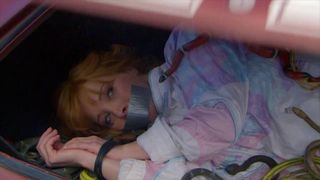 In a matter of weeks, Valerie Cherish returns! HBO has been teasing us of the Comeback comeback for a while now, and this week, we finally have an actual trailer, which fills in a few more blanks about what this limited series will be about. Check it out!
Valerie (Lisa Kudrow) and Paulie G (Lance Barber) back together again! From what we're able to piece together from the trailer, it sounds like Valerie's being cast to star in an HBO pilot written by Paulie G called Seeing Red....
That's also possibly starring him?
Paul G is acting now?
Because I'm obsessed with trying to find details about The Comeback, I took a closer look at that script page. In the background, you can see some google search results.
Some of what's listed there looks like the actual google listing for actor Lance Barber, complete with his IMDB profile, The Big Bang Theory wiki page and Justified wiki page (except it looks like they're credited to Paulie G instead of Lance B.). But you can also see Barber's name mentioned on the image search results, so we might not want to look too closely at that page for clues. Still, there is a mention of something called Rehab, which isn't among Barber's actual credits. So that may very well be a notable Paulie G. credit.
The status of Paulie G's life and career in the ten-years-later scenario that we're looking at for The Comeback's comeback is of particular interest, when we consider that Lance Barber's character was the primary antagonist of the original series. Back then, Pauly G. was a rude, egotistical but successful TV writer who didn't care much for Valerie, though he seemed to get along with just about everyone else. If Karma had a say, Paulie G probably wouldn't have thrived as a writer (or actor?) in the years that followed that epic cupcake gut-punch. But let's face it, Karma's pretty hit or miss, and if he's got an HBO pilot in the works, it's likely things are going ok for Mr. G.. But what's he like as a person these days? Is his ego bigger than ever? Or are we going to see a kinder, more patient Paulie G. this time around? It's really hard to tell from the trailer. But it's unlikely that Valerie has forgotten their history, so we're expecting some tension regardless.
Meanwhile, the trailer also gives us an eyeful of Aunt Sassy, back in her running suit! And at one point, bound and gagged in the trunk of a car, covered in snakes?
No idea what's going on there. Is Valerie back as Aunt Sassy for this Seeing Red show? If the series is set up to be about Paulie G and a neurotic older actor, maybe this is a "based on true events" adaptation of Paulie G and Valerie's Room and Bored issues?
The trailer also gives us a peek at Juna (Malin Ackerman), who appears to be as famous as ever, judging by the camera people trampling Valerie to get a shot of her. And Valerie's publicist Billy (Dan Bucatinsky) is back and he hasn't gained control of his temper. Love it. Also, Jane is back! From what the trailer shows, Laura Silverman's character seems unprepared for her reunion with Valerie, but the camera crew tipped her off that it was the I'm It-girl showing up at her door. What's Jane been up to and is she being reluctantly drawn back into Valerie's reality TV drama once again? Looks like it!
Can't wait to see The Comeback when it returns for its 8-episode limited series run on November 9 at 10:00 p.m. on It's not TV it's-HBO. Catch the original series streaming on HBO Go and Amazon Prime.
Your Daily Blend of Entertainment News
Assistant Managing Editor
Kelly joined CinemaBlend as a freelance TV news writer in 2006 and went on to serve as the site's TV Editor before moving over to other roles on the site. At present, she's an Assistant Managing Editor who spends much of her time brainstorming and editing feature content on the site.