The Comedy Central Roast of Charlie Sheen's New Crazy Train Promos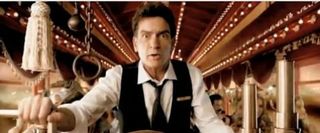 I'm so happy to be the one to bring you constant updates on the goings-on with the roast of actor-turned-warlock Charlie Sheen. Yep, I knew I was put on this Earth for a reason and that reason is to bring you weekly, almost daily, news updates to build anticipation for what is surely to be the roast of the century. Who am I kidding, beneath all this bubbling cynicism and too-coolness, I'm going to end up watching, and to their credit, these promos for The Comedy Central Roast of Charlie Sheen aren't that bad.
There has been a steady stream of Roast updates since the monumental announcement that Comedy Central would get to bring Charlie Sheen onto it's revamped version of classic TV staple. This is the most exciting roast since Dean Martin's classic events with celebrities like Don Rickles and Bob Hope participating. I mean, just yesterday we got to announce the esteemed roasters (opens in new tab) who will be sitting in judgement on the dais before stepping up to the mic. People like Steve-O, Harvey Levin and Mike Tyson really live up to the legends like Rickles and Hope. Charlie, they are pulling out all the stops for you bud.
I will say that Comedy Central got one thing right: Seth MacFarlane. The now three-time host is the only good thing to happen to that fledgling program since the first few aired and the series quickly lost it's cachet and any semblance of entertainment. MacFarlane is a gifted entertainer and perfect for this kind of MCing gig. He's smart, sharp and willing to go to some less than 'PC' places all in the service of getting a laugh and I'm sure he'll provide us with plenty, even if the actual roasters can't roast. Actually, as I said yesterday, I hope TMZ's Levin gets it worse than anyone and I'm betting on MacFarlane to be the one to give it to him.
Anyway, Comedy Central just released two more promos for the event (in addition to the Dr. StrangeSheen (opens in new tab) preview from last week) and, shockingly, Sheen seems on his game. This is as good or better than he's been on Two and a Half Men for, well, forever. Perhaps a career resurgence is in the cards? Nah, probably not...
The Roast of Charlie Sheen: Tsunami in a Sippy Cup
The Roast of Charlie Sheen: Driving the Roast Express
The Comedy Central Roast of Charlie Sheen will air September 19th at 10 p.m. on, you guessed it, Comedy Central.
Your Daily Blend of Entertainment News
Thank you for signing up to CinemaBlend. You will receive a verification email shortly.
There was a problem. Please refresh the page and try again.