Community's Time Is Running Out As Hulu Talks Fall Through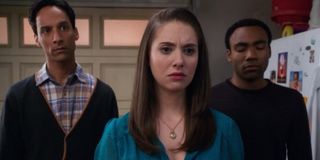 While all hope isn't quite lost for a Community revival, it doesn't look like that'll be happening at Hulu. Word is, the streaming video service has walked away from negotiations to acquire the cancelled NBC comedy, which means if Community's going to get its sixth season (and a movie?) it'll have to look elsewhere before the deadline.
Following word that Community was cancelled by NBC after Season 5 wrapped up, there was talk of Hulu possibly rescuing the series. However, TVLine reports that Hulu has "abandoned talks" to acquire Community, which is bad news as Hulu was said to be the only viable suitor looking to pick up the series. If someone's going to rescue Community, it needs to happen before June 30, which is when the actors' contracts expire.
UPDATE: The Wrap reports that a source says that "reports the streaming TV service had dropped out of talks to pick up a new season of "Community" are false." Obviously that conflicts with part of TVLIne's information. Wrap says representatives from Hulu and Sony declined to comment.
On the bright side, there may be another option out there, as TVLine's article cites a "source close to the show" as noting that Sony isn't in the habit of giving up easily. We know that much is true. Just ask Drop Dead Diva. The Sony-produced drama was dropped by Lifetime, but things were eventually worked out and it was uncancelled. While I can't imagine that'll happen with Community and NBC, hopefully TV Line's report is a hint that there's some other option out there for the comedy.
While we wait anxiously for any updates on this situation, realistically, we might want to start preparing ourselves to say goodbye (for now) to Community, if you haven't already. It's particularly disappointing, considering the hope among fans that the series would hit the "Six seasons and a movie" mark before saying goodbye. On the optimistic side, looking at other series that have been revived in some form or another -- 24 and Arrested Development to name two recent examples -- it's not hard to imagine a Community reunion at some point down the line. Community is exactly the kind of series that would lend itself well to a comeback a few years or more after its cancellation. Of course, that kind of thing poses its own challenges, particularly as it relates to reuniting the Greendale gang, as actors tend to scatter for other projects when their show ends.
And that brings us to our next bit of optimism (or desperate grab at a silver lining). If Community doesn't find a new home before next week's deadline, that would at least free up the actors a bit more to pursue other projects, and we can only hope that all of the stars -- Joel McHale, Danny Pudi, Yvette Nicole Brown, Alison Brie, Gillian Jacobs and Donald Glover among them -- find new roles on the small screen so that we can continue to enjoy their talent on a weekly basis. Gillian Jacobs has already found her next small screen role. Jacobs is set to appear in next season of Girls.
Your Daily Blend of Entertainment News
Thank you for signing up to CinemaBlend. You will receive a verification email shortly.
There was a problem. Please refresh the page and try again.