Community Watch: Episode 10 - Regional Holiday Music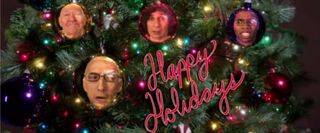 Everybody who cares already knows that this is the last episode of Community before the hiatus. This is obviously crap news. And furthermore, it's crap news that we've already discussed at length so let's skip the rehash and instead move on to the good news, nay great new, this week's "Regional Holiday Music." Clearly from the show's title, this is not only the annual holiday episode (good luck topping last year's claymation "Abed's Uncontrollable Christmas," but that goes to any and all series) but it is also musically themed. A musical you say? I wonder what other show will be the primary target for this week's jabs?
"I think what we've learned Abed is that attempts to make the holidays brighter tend to give them a certain darkness."
The group is in the cafeteria when Abed arrives and suggests that they all spend Christmas together, especially since he has a copy of the critically reviled 1981 Inspector Spacetime Christmas Special. However, the group has their own plans. They're all going their separate ways for the Christmas break - you think this show is aware of an impending hiatus? Troy as a Jehovah's Witness will be spending the holiday with his family, Britta's doing something lame and charitable and Annie (being Jewish) is going to the movies with her booby, I mean Bubbi (as all us Jews do on Christmas, followed by Chinese food). Cue the primary target for the show, the Greendale glee club, "next stop Regionals!"
Some might say that Glee is a pretty easy target but I'd argue there are several easier fish to fry than parodying a prime-time musical. While the entire group bemoans the entrance and ensuing number by the glee club, Jeff remains shockingly docile. Of course, he has already taken legal recourse and "glee club just became history club." Not including the tag, here's the sole Chang appearance for the week as he slaps a cease and desist order on the singers, who then freak out! And not like Chic "Le Freak" freak out but like a full-on collective nervous breakdown, which then opens the narrative window for the week - who can possibly replace the glee club for the upcoming Christmas Pageant?
"When your brain finally lets your heart in its pants."
The Dean and Glee Instructor, aka human fro-yo or Mr. Rad (played to perfection by Saturday Night Live's Taran Killam) flirtatiously enter the study room in hopes of recruiting the group to step up for the glee club like the last time. Do you remember the last time they did glee and won? How about "Paradigms of Human Memory" (opens in new tab), a second season episode similarly structured and also not necessarily narratively based. Although, there is a definitely an emotional though-line in the show, specifically Abed's desire to spend Christmas with the group and make it one to remember. After the group turns down the offer from the man described as "equal parts Hanson and Manson," they all vow to avoid being suckered into pageants and regionals. However, as we follow Abed he hears Mr. Rad playing the piano and they get into the most glaringly anit-Glee number and Abed decides to use it, glee that is, like a virus to infect the others. And yes, there's definitely a little Manson in Mr. Rad. Christmas cheer or horror?
The rest of the episode plays out brilliantly, with each of the characters slowly being inducted into the glee cult and seduced by using their character traits against them (Abed remains detached, his only goal is to be with his friends during the holidays). First, Abed returns home full of glee and convinces Troy to infiltrate Christmas as an spy for the Jehovah's Witnesses, the whole conversation slowly building until the beat drops and they bust through their blanket fort onto a stage. A stage with a giant blanket fort backdrop (awesome). This is the best performance of the show - it probably doesn't hurt that Donald Glover is an actual accomplished rapper under the name Childish Gambino - in terms of the overall song, the lyrics and the visual flare. Not to mention the ever pressing issue of the show's hiatus seeping in, "if years were seasons, this December, would be the December of our December." Pretty heavy(ly convoluted) stuff Abed.
After the number, Troy's fully committed to the pageant and when the group arrives to the study room the next day, the chairs are arranged podium (aka Glee) style and there's a piano man in the corner. While the rest of the group resists their charm, TroBed's 'Baby Boomer Santa' history of music song completely wins over, panders to, Pierce. Okay, this might be the best number. No, the 'Save Christmas, Save Friends' rap was better. Anyway, Pierce is on board. With numbers growing Annie soon confronts Mr. Rad but, "well... well... well" she has little luck and instead finds herself under the influence of the Christmas Pageant cult. The episode is actually a lot like the zombie Halloween show from Season 2, "Epidemiology," where one by one, they eventually turn over to the dark side - which, as we found out in the cold open, is inevitable when you try to make things brighter. Although, it's hard to argue that Annie's show, uh, song, 'Boopy, Doopy, Boop, Doop, Sex,' wouldn't win me over (if I hadn't seen her do the same before with "Santa Baby" (opens in new tab)) just as it did Jeff.
Of course they play into all the major aspects of Shirley's character, her being a mother, loving to bake and being religious (to put it mildly, more like crazt love of Jesus). Pierce rolls out the children's gospel choir and she might as well have lifted the white flag then and there but it's fun to watch her dangle with temptation before succumbing. How can she resist when they sing about the lack of prayer in public schools? The last to convince is Britta and maybe they ran out of time or are truly suggesting that all she needs is Jeff to do something and she'll blindly follow suit. Either way, the pageant arrives and it seems the whole group is stoked about regionals, even Pierce, "I thought this was Regionals? Don't let my confusion undercut their importance."
Actually, not everyone because Abed finally sees through the Hanson to the Manson and realizes that this isn't bringing them together for Christmas as he hoped. He's just manipulating them. And now they are mindless and easily digestible. So the only thing for Abed to do is unleash Britta and yep, show's ruined in about one minute, "oh, Britta's in this?" I love both Alison Brie and Gillian Jacobs' willingness to make complete fools of themselves despite being ridiculously attractive. Not all would do that to their 'image' (men too I'm sure). Finally the show closes on a real, and earned emotional beat when Abed's solitary holiday viewing of the Inspector Spacetime Christmas Special is interrupted by the group who have come to spend the holiday together.
"Dean, dean dean dean..."
In what is surely the creepiest and yet, possibly most melodic (TroBed can drop some pretty sick melodies) tag of the series we get superimposed heads on ornaments singing their rendition of "Carol of the Bells" - which is, the best Christmas carol thanks to Home Alone. The song opens with the Dean. Followed by Chang, Magnitude, Starburns (with the best line, "my name is Alex") and Leonard. Thankfully a cat's paw smacks Chang's ornament to the ground allowing for the perfect Christmas Card. However, unlike most musicals (and Christmas episodes for that matter) there's a certain amount of frustration, anger and anxiety, not to mention sinister undertones, bursting out of "Regional Holiday Music." The final lines, "we'll see you after regionals," read like a foreboding message. That shows like Community won't be able to stay on the air as long as audiences are more interested in watching famous pop songs sung over and over, on ten different shows across all the networks.
In true Community meta-fashion, the show seems fully aware that it's being benched and, well, it's a little spiteful of the kind of on the nose, obvious and easily accessible programs that remains on the air with big numbers. Like Glee. And boy do they take their shots at Glee, however, I don't think it's as directed at the prime time song and dance show as it is at programming as a whole. Although Glee is obviously the primary butt for the jokes but I think it would be short sided to not see this episode as a commentary on the state of television (think of the glee club leader as a network executive) and an absolutely perfect bookend to the season's ironic opening musical number.
Community is what it is. It's loved fiercely by a small but not insignificantly small number of people, kind of like another show that people found too layered, demanding and, well, weird. A show that has had it's fiercely loyal fans crying for an encore ever since Arrested Development was yanked off the air over five years ago. And now they're getting it, so let's hope that even if this spells the end for the show at NBC (since the show will not change and Dan Harmon is clearly unhappy with the network) it doesn't spell the end for Greendale. There's always Netflix? Merry Christmas Happy Holidays. #saveCommunity. #SixSeasonsAndAMovie.
Community airs on NBC, Thursdays at 8 p.m. ET/PT. It stars Joel McHale, Gillian Jacobs, Alison Brie, Danny Pudi, Yvette Nicole-Brown, Donald Glover, Jim Rash, Ken Jeong and Chevy Chase. It was created by Dan Harmon.
Your Daily Blend of Entertainment News
Thank you for signing up to CinemaBlend. You will receive a verification email shortly.
There was a problem. Please refresh the page and try again.